Sneak Peek: Are you wondering what a bread machine does and why you might need one? Perhaps you are trying to decide between a bread machine and a stand mixer. If you already have a mixer, do you need a bread machine? Read this first!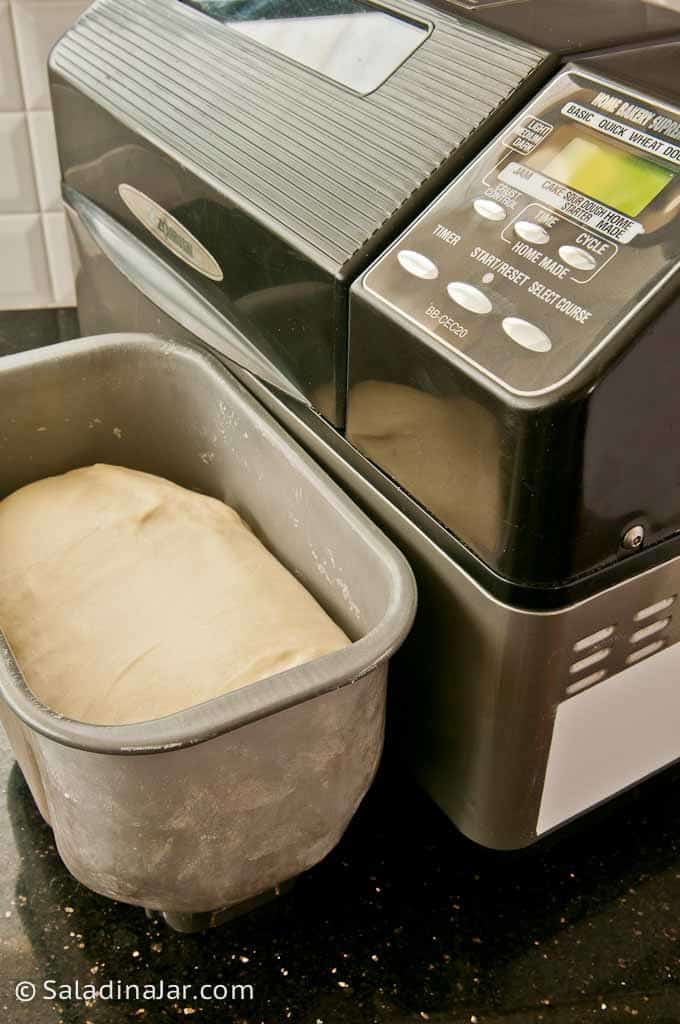 As an Amazon Associate, I earn from qualifying purchases.
Are you wondering if a bread machine is worth the money, especially if you already have a stand mixer? Will you use it enough to earn its keep in your kitchen?
If you must choose between a stand mixer or a bread maker, which is better suited for your abilities and needs?
Note: I receive no compensation from any appliance company for what I say or don't say here. These are my opinions based on 35+ years of experience with various brands of bread machines and stand mixers.
What does a bread machine do?
A bread machine lets a person dump all the liquids and dry ingredients for bread into the appliance at one time, select the correct settings, and push START. Three and a half hours later, you hopefully have a loaf of bread that is baked and ready to eat.
That's a simple explanation, but there's so much more.
Features you might find in a bread machine:
Bread makers offer the consumer a wide variety of cycles and options:
The DOUGH cycle mixes and kneads the dough, then allows it to rise a time or two. After that, you take over. This cycle is suitable for pizza dough, cinnamon rolls, and any bread not shaped like a bread machine pan. It is my favorite cycle and almost the only one I use. More about that later.
A delayed timer allows you to set the machine to start mixing at a later time. This feature is handy when you want to schedule your bread to finish baking even though you're unavailable. A few models will allow you to set the timer on the DOUGH cycle, which is worth the price of the machine in my book.
A pre-heat phase brings all the raw ingredients in your bread recipe to the same temperature before starting. This phase is only helpful if you use the machine for baking your bread. It is unnecessary when using the DOUGH cycle.
Most bread makers offer various settings for assorted bread with appropriate levels of browning for the crust, e.g., whole wheat bread, sweet bread recipes, dark and light crusts, etc.
Many machines offer an "add-in" notification. When the machine beeps, you know it is time to add ingredients you don't want to be pulverized, like nuts or raisins. The beeps usually sound in the last 5 minutes of the kneading phase.
A SOURDOUGH STARTER cycle enables you to make a specific type of sourdough starter in the machine and allows it to sit for days while it ferments to perfection. Unfortunately, you can't use your bread maker for anything else during this time. This cycle is not for making sourdough bread. See the FAQ section for more information.
GLUTEN-FREE BREAD cycles are becoming popular. See the FAQ section for more discussion about gluten-free bread and a bread machine.
A CAKE cycle makes quick bread like banana bread, cornbread, or desserts like chocolate cake. Remember that the final product will conform to the shape of the bread pan. Making a 3-layer cake would require some extreme creativity.
Some machines also offer a JAM or YOGURT cycle (designed for yogurt incubation).
A few bread makers offer HOMEMADE or CUSTOM cycles that allow you to create a specific combination of mixing, kneading, rising, and baking. Or, you can build a custom cycle that is strictly for baking, which will enable you to make things like meatloaf. Unfortunately, I'm unaware of a bread machine that allows you to choose the baking temperature, so you're stuck with the default bread-baking temperature.
---
Is a bread machine better than making bread by hand?
Probably not. If you prefer making bread by hand, my hat is off to you. The alleged therapeutic advantages of using your own two hands to work the dough are wasted with me. Please invite me over when your bread comes out of the oven, and I'll help you eat it.
However, many of my readers with arthritis get excited about making homemade bread like they used to by using a bread maker to mix and knead the dough.
Bread machine vs. stand mixer
Occasionally, my readers will ask me if they need a bread machine when they already own a stand mixer. Or perhaps they only have space for one or the other. Which one should they purchase?
Here are some pros and cons for your consideration:
1. Bread machines are the best dough kneaders in town.
Bread machines, especially those with two paddles, do a superb job of kneading all kinds of dough. Use it for standard pizza dough, basic bread, whole grain loaves, or even sticky ciabatta, brioche, or rye dough.
The only bread recipes not appropriate for a bread machine is a no-knead or refrigerator dough. In both cases, the gluten develops with the help of a high percentage of liquid, so there is no reason for a bread machine.
2. Mixers will do a multitude of other baking tasks besides making bread dough.
There is no end to what you can make with a stand mixer. If you don't have a mixer and want to do a lot of baking, I would choose a mixer first.
While bread machines offer cycles for making jam, cake, and other baked goods, the bread machine would not be my first choice for making anything but yeast bread.
It's nice to have the option if you don't have access to a conventional oven, don't want to use it (summer?), or want to take your bread machine on a camping trip.
But unfortunately, the posts at the bottom of the pan and the inability to control the baking temperature can be challenging. (I almost forgot the obvious—everything solid will bake in the shape of the bread pan.)
Clean-up is also more difficult whenever you bake in a bread machine. All the manufacturers I know about recommend against throwing a bread machine pan into the dishwasher. Scrubbing around the posts is a drag, especially if a paddle is stuck to it.
3. Bread makers limit the recipe size you can use.
Most 2-pound bread machines have a limit of 4½ cups of flour, although a few bread makers can make a three-pound loaf. If you are baking for a crowd, you either need to use more than one bread machine or make several batches of dough one after another. I don't advise doubling a bread recipe when using a bread machine.
4. A stand mixer has more power.
That extra power comes in handy for bigger batches of dough. Depending on your stand mixer's size, most can easily handle a recipe with 6-7 cups of flour.
However, that power can make it easy to over-knead the dough with a stand mixer. Because you are in control, you must recognize when the dough is mixed and kneaded correctly. This decision can be a tough call for beginners.
I have never seen a dough that was over-kneaded in a bread machine. The timer takes care of that and is helpful for beginners.
5. Monitor mixers, but don't ignore your bread maker, either.
With yeast bread, most recipes designed for a stand mixer begin with the mixing attachment, then ask you to change to a kneading attachment to build gluten.
Theoretically, a bread machine only needs you to add the ingredients to the pan and press "go." That's what most people imagine when buying a bread machine.
However, bread machine dough also needs love and attention after you start the machine.
(Bread machine manufacturers don't advertise this, but it's true if you want a fabulous product every time.)
📌Kitchen tip📌: After you dump the ingredients into a bread machine and push "START," circle back one more time and lift the lid to ensure the moisture level is correct in your dough. Doing this will exponentially increase your chances of success with a bread machine.
---
Five reasons you might need a bread machine:
1. Simple assembly, simple clean-up
First, dump all ingredients in at once—no need to dissolve the yeast. Then, close the lid, keeping the flour mess inside. The result? Only one pan and one or two paddles to clean.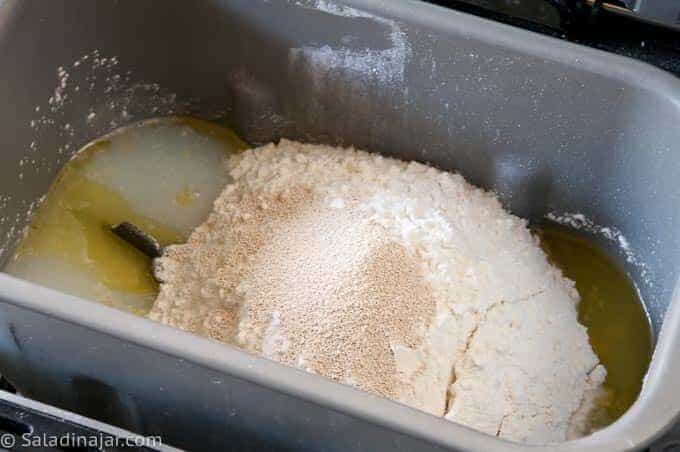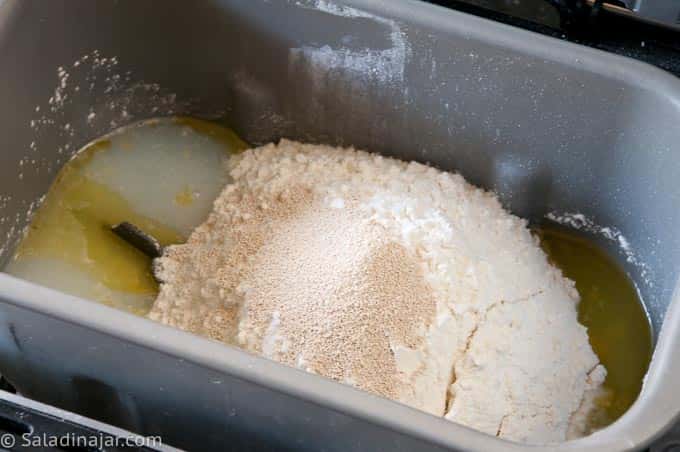 2. Shorter hands-on time than kneading by hand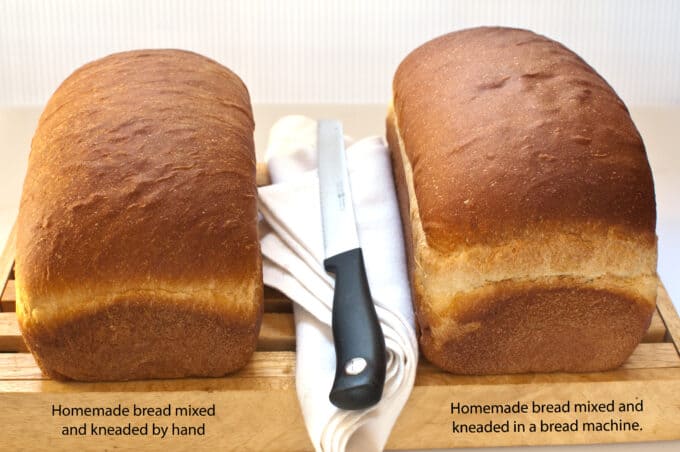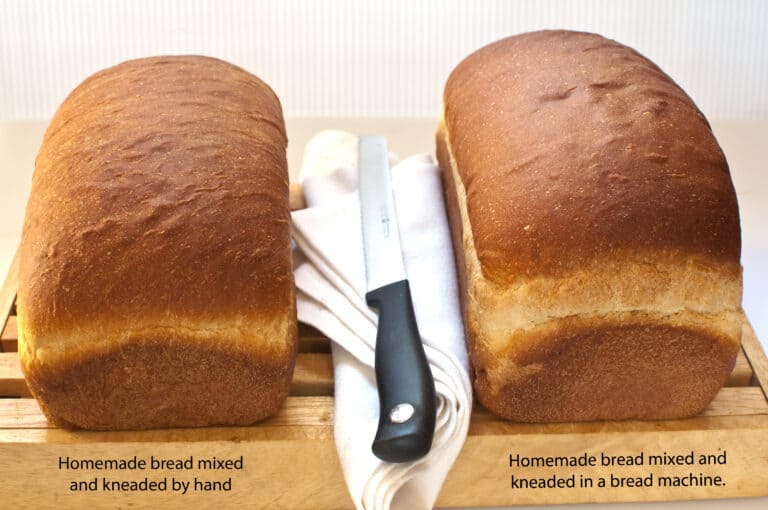 3. Bread rises higher, and the texture is more delicate when using a bread machine than hand kneading.
Compare the texture and rise of the two loaves of Condensed Milk Bread below.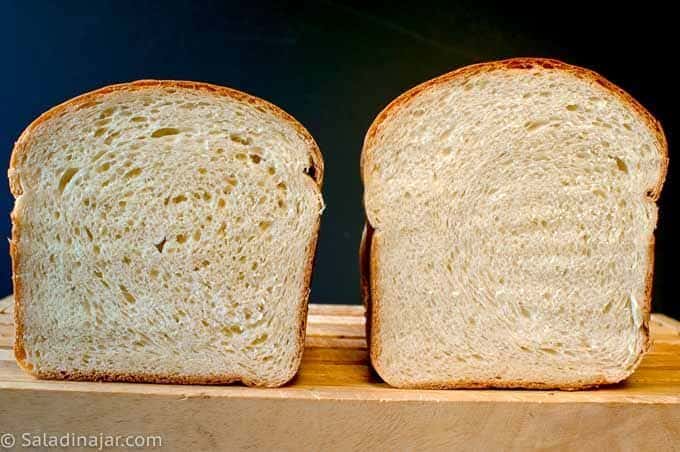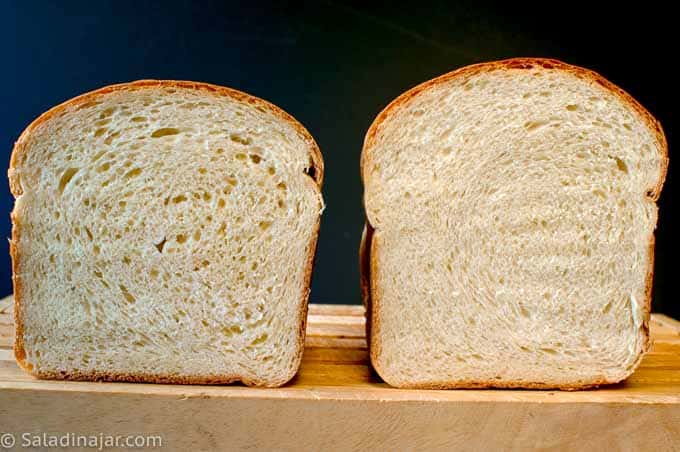 4. Minimal attention to the dough-making process is required.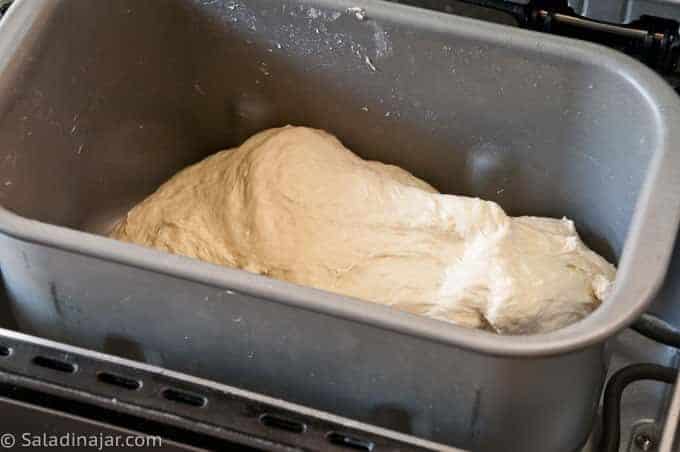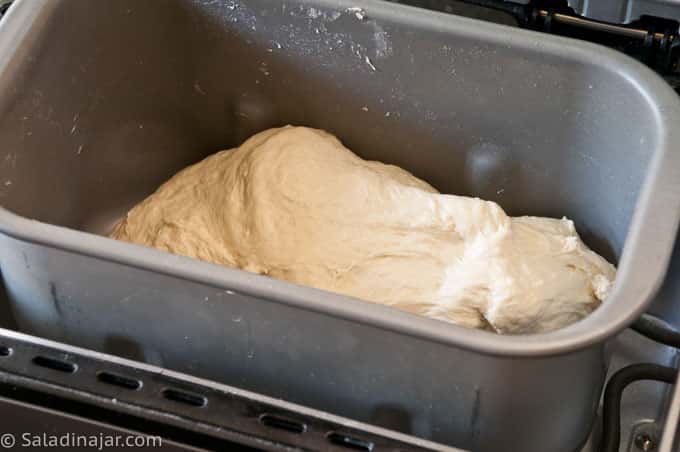 For this reason alone, I prefer a bread machine, although a stand mixer will do an excellent job once you get the hang of it.
Changing mixing speeds and blades is a non-issue with a bread machine.
You will no longer need to grease a bowl, find a cover, or look for a warm place for the proofing stage.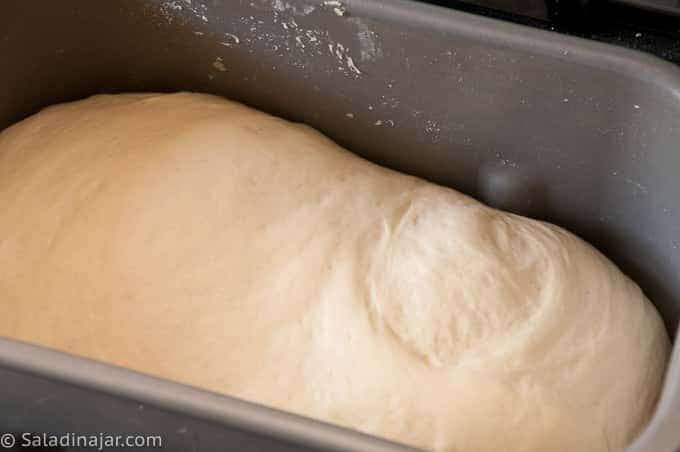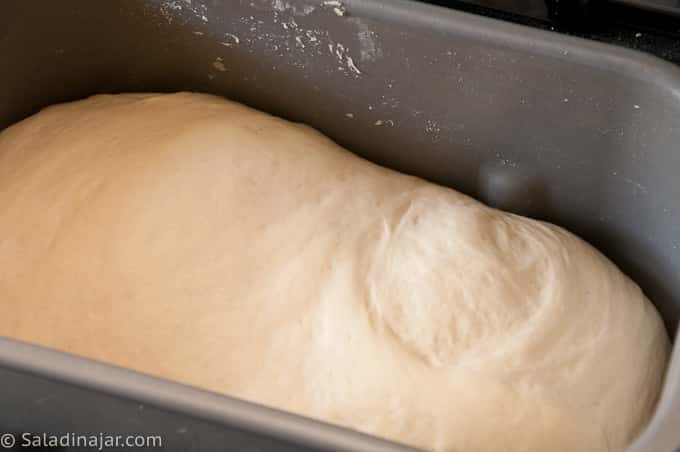 5. Bread machines have helpful timers.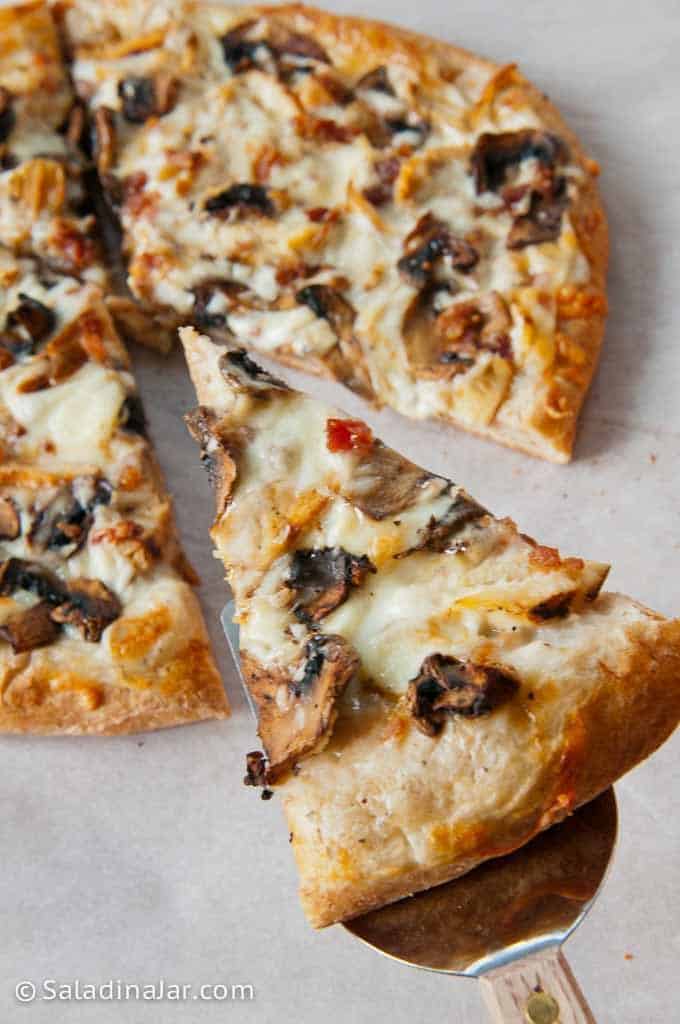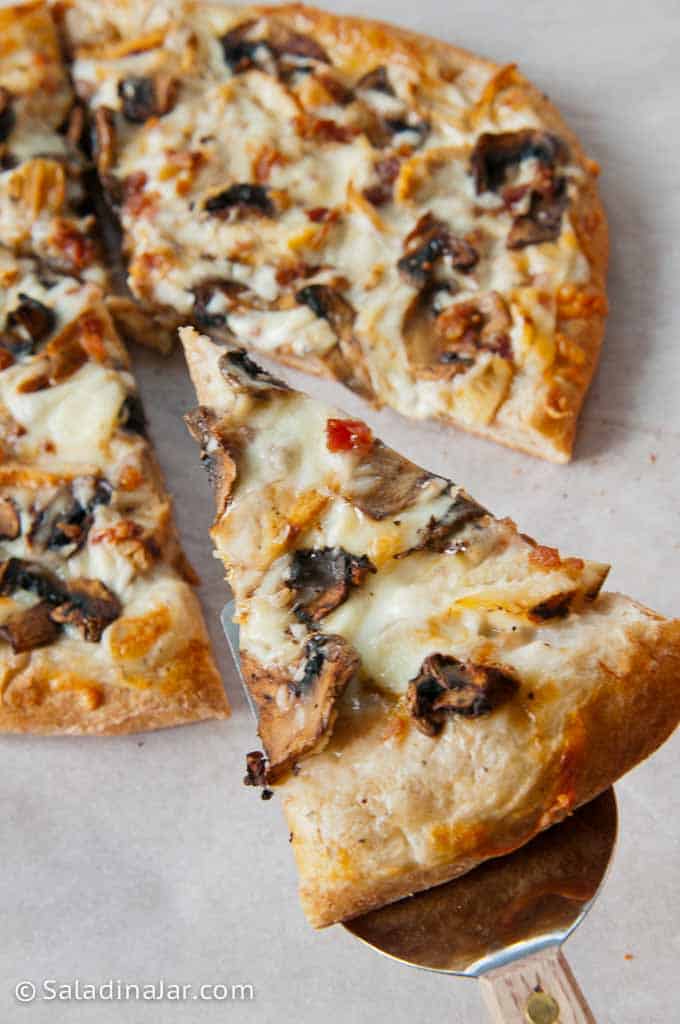 With a timer, you can do extraordinary things like having My Favorite Pizza Dough ready to roll out when you walk in the door from a long day at work.
Another example
I often throw ingredients for My Favorite Dinner Rolls into the bread machine before church. Set the timer to start the DOUGH cycle. Upon arriving home 2-3 hours later, the risen dough is ready to form into the shape of my choice.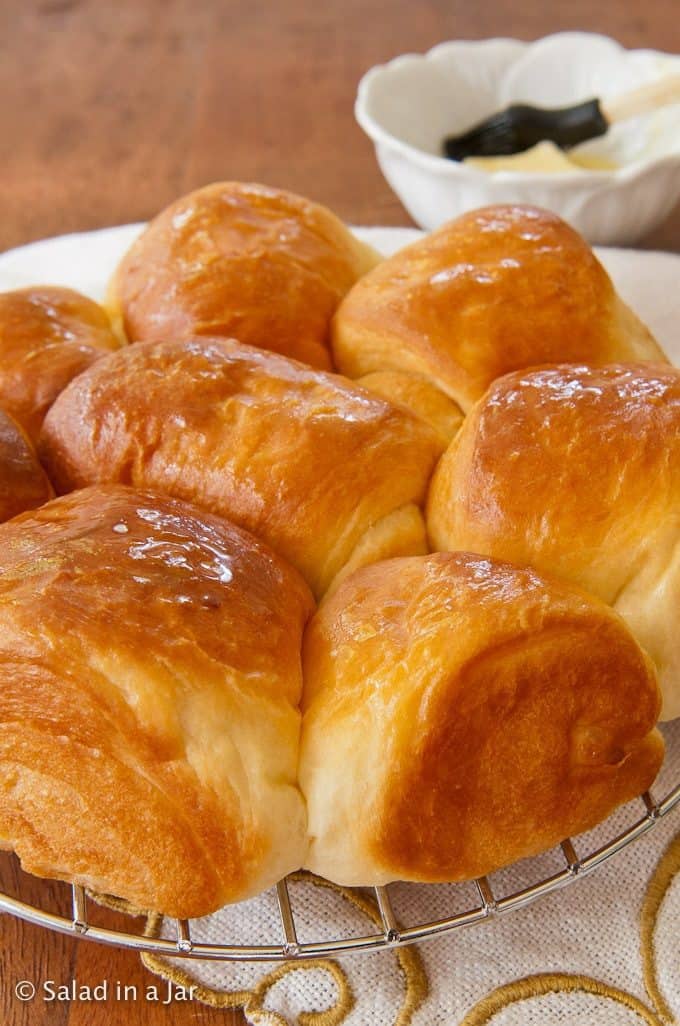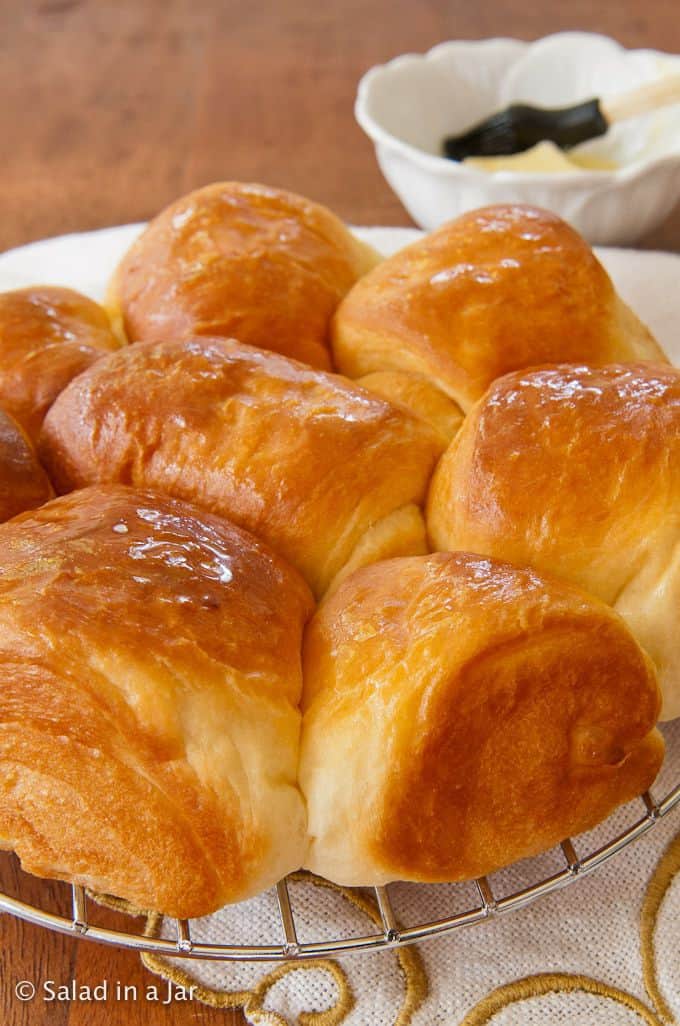 6. The DOUGH cycle has a warming feature to help your bread proof correctly during the first rise phase.
The warming feature works well unless your kitchen is overly hot or cold, especially if you want to start your bread and leave the house for a while. When the lid is down, the built-in heater will keep the dough at the right temperature until the end of the DOUGH cycle.
When using a mixer, you cover the dough when the mixing and kneading finishes. Then, move the dough to a safe and warm location for the first rise before you shape the dough.
---
Let's talk about the elephant in the room.
Have you ever eaten bread made and baked in a bread machine? Were you impressed? What about the holes in the bottom and the cardboard crust?
While the baking process in a bread machine may produce bread good enough for toast or filling up hungry teenage boys, the final appearance and taste can be a gamble.
Why? Because making a fabulous loaf of bread is more complicated and less forgiving than making a pan of standard brownies. There are many more variables:
Despite the misshapen loaves, door stops, and thick crusts you may have experienced in the past, there are ways to use a bread machine that make it quite useful, even when you have high standards for your bread.
Suppose you are willing to consider using a bread machine differently. In that case, you can avoid the complaints that come with strict adherence to the manufacturer's instructions and recipe manuals.
Instead, I'll teach you easy ways to correct the dough for variables listed above and more. (Don't forget to sign up for the free course below.)

Yes! You can make homemade bread that you'll be excited to share with your family and friends. I'll show you how! With a good recipe, a little practice, and some human intelligence, you can expect excellent texture, height, flavor, and appearance in the bread you make with a bread machine.
---
FAQ about bread machines:
When I tried to make bread in a bread machine, it turned out like a brick. Who needs it?
Using the automatic cycle on a bread machine from start to finish is fraught with pitfalls. Although you might get lucky, and it works, often it doesn't. I don't care for the odds, so I choose to take more control.
Use the DOUGH cycle for mixing, kneading, and the first rise. Next, remove the dough, shape it, let it rise again, and finally, bake the bread in a conventional oven.
I already have a bread machine, but I need some good recipes.
What do you recommend?
On this website, you'll find over 60 recipes for mixing bread in a bread machine. Also, you can make any of these recipes with a stand mixer. Find the directions in each bread recipe's notes.
Is a bread machine suitable for making gluten-free bread?
A stand mixer is the better option. Gluten-free flours are heavy. Properly mixing gluten-free dough can be challenging for bread machine paddles without help from a cook with a small spatula. Using paddles designed to build gluten seems pointless when there is no gluten to develop. If you are determined, check out these tips for gluten-free bread in a bread machine.
Do I have to use unique ingredients when using a bread maker?
I recommend using the ingredients specified in the recipe to get the best results.
For example, instant yeast is the yeast of choice for a bread machine. Bread flour will provide a more robust rise than all-purpose flour. Vital wheat gluten is helpful when baking with whole wheat flour and other whole-grain flour like rye. For best results, don't substitute, especially if you are a beginner.
There are only two of us. Can I make a smaller loaf in a 2-pound machine?
This question is hard to answer with a blanket statement. It works fine in some machines. Others, not so much. You can usually get away with a 1½-pound loaf in a 2-pound machine. Consider buying a compact device if you rarely want more than a 1-pound loaf.
---
If you have questions or suggestions, email me privately to Paula at saladinajar.com. Hope to see you again soon! Paula
---
If you have a friend that you think would enjoy a bread machine, thank you for sharing this article.