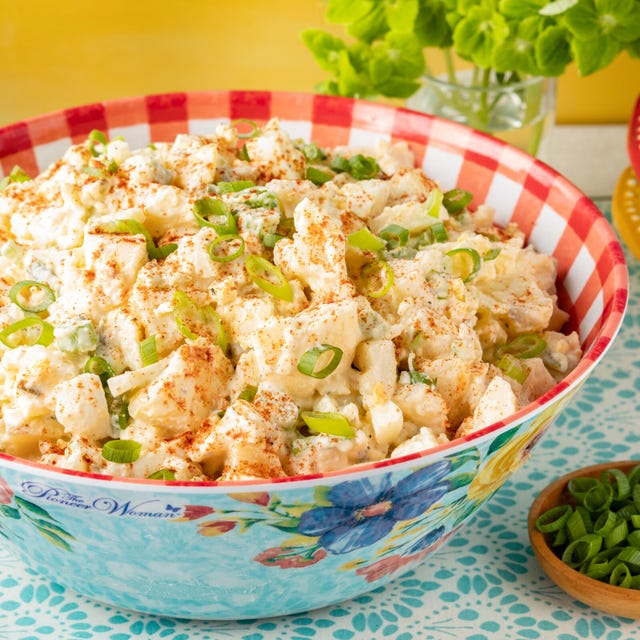 Will Dickey
Potatoes are a big deal around here. Fried, baked, mashed, roasted—they all have a place at the table. But this Southern potato salad gets super-high marks for its creamy dressing, flavorful stir-ins (here's looking at you, hard-boiled eggs!) and delicious texture. Hands down, it's one of the best sides to take to a cookout.
What's in Southern potato salad?
For starters, you don't have to be Southern to make this potato salad and no two Southerners make it exactly the same way! This version includes the classic cast of ingredients, including a creamy, mayonnaise-based dressing spiked with apple cider vinegar, plus generous amount of sweet pickle relish to balance the flavors. Although this version doesn't include any bacon, you're welcome to add some just like Ree Drummond does in her Perfect Potato Salad.
What kind of potatoes are best for potato salad?
That depends on what kind of potato salad you're making! Different types of potatoes result in different texture: Waxier potatoes like new potatoes hold their shape better when cooked, so they're great for German- and French-style potato salads which are tossed in a thinner, vinaigrette-style dressing; Yukon Gold and russet potatoes cook up more tender and fluffy. When mixed with a mayonnaise based dressing, they'll break apart to make an all-around creamy potato salad. 
Can Southern potato salad be made ahead of time?
Sure thing! In fact, it's one of the best make-ahead sides for a cookout as time allows the flavors to meld. 
What goes with potato salad?
Practically everything: hot dogs, burgers, ribs, brisket, or chicken wings. And of course, it's good all by itself.
Advertisement – Continue Reading Below
Yields:

6
– 8
Prep Time:

0

hours

30

mins


Total Time:

1

hour

0

mins


3
lb.

Yukon Gold potatoes, peeled and cut into 1-inch pieces
2
tsp.

apple cider vinegar
1/2
tsp.

ground black pepper
1/4
c.

chopped green onion, plus more for garnish
1/4
c.

sweet pickle relish
4
hard-boiled eggs, peeled and chopped
This ingredient shopping module is created and maintained by a third party, and imported onto this page. You may be able to find more information about this and similar content on their web site.
Place the potatoes in a large pot and cover with water by 1 inch. Bring the water to a boil and cook until the potatoes are fork tender, about 12 to 15 minutes. Drain the potatoes and let them cool in a single layer on a sheet tray or plate. 
Whisk together the mayonnaise, sour cream, mustard, vinegar, salt, and pepper in a large bowl. Fold in the potatoes, celery, green onions, relish, and eggs until well combined. Cover and refrigerate at least 30 minutes. Sprinkle with paprika and more green onions before serving, if you like.
If you like a creamier potato salad, mash the potatoes do your desired consistency before adding the ingredients in step 2.
This content is created and maintained by a third party, and imported onto this page to help users provide their email addresses. You may be able to find more information about this and similar content at piano.io
Advertisement – Continue Reading Below