Oftentimes salads get a bad rap, and maybe that's for a reason. It's often associated with over-the-top health nuts or those with God complexes about the fact they are eating enough leafy greens.
And truthfully, until I started preparing for this article, I hated salad.
I hated how the dressing often sank to the bottom of the bowl only to get soggy and unappealing by the end of the dish. I hated having to shove embarrassingly large leafy greens into my mouth, knowing I looked about as graceful as a baby eating finger food, dressing smearing across the boundary of my mouth.
But mostly, I hated how much it reminded me of my complicated relationship with food.
Funnily enough, before I took over as the food writer for Free Times earlier this year, I struggled with an eating disorder most of college. I was obsessive about carbs and calories and for a bit of my time in college, I would only allow myself to eat a Panera Bread caesar salad.
The truth is, I hated salad because I associated it with a time where my relationship with food controlled me and it still, to an extent, puts me back in that mindset. I told myself that salads are what skinny women order to make others feel bad about themselves and that's all I could ever think about when ordering a salad.
But I decided to give salad another go. What I found is that Columbia has some incredible salad offerings — from Groucho's Deli's chef salad that locals rave about on social media to Mr. Friendly's New Southern Cafe's signature Charleston chicken salad. And I also found hope in the fact that maybe my relationship with food (and salad) might not be in as bad of shape as I often think and that good greens are worth a second chance.
And with that spirit in mind, Free Times has asked its writers to highlight some of the city's best easygoing fare in salad and bowl fare. It's particularly apt as summer is in full swing, bringing brutally high temperatures that wear you down. So check out these suggestions for some of the best salads around town. HANNAH WADE
smallSUGAR's Sweet Potato Bowl
709 Gervais St. 803-722-7506 smallsugarsc.com. $14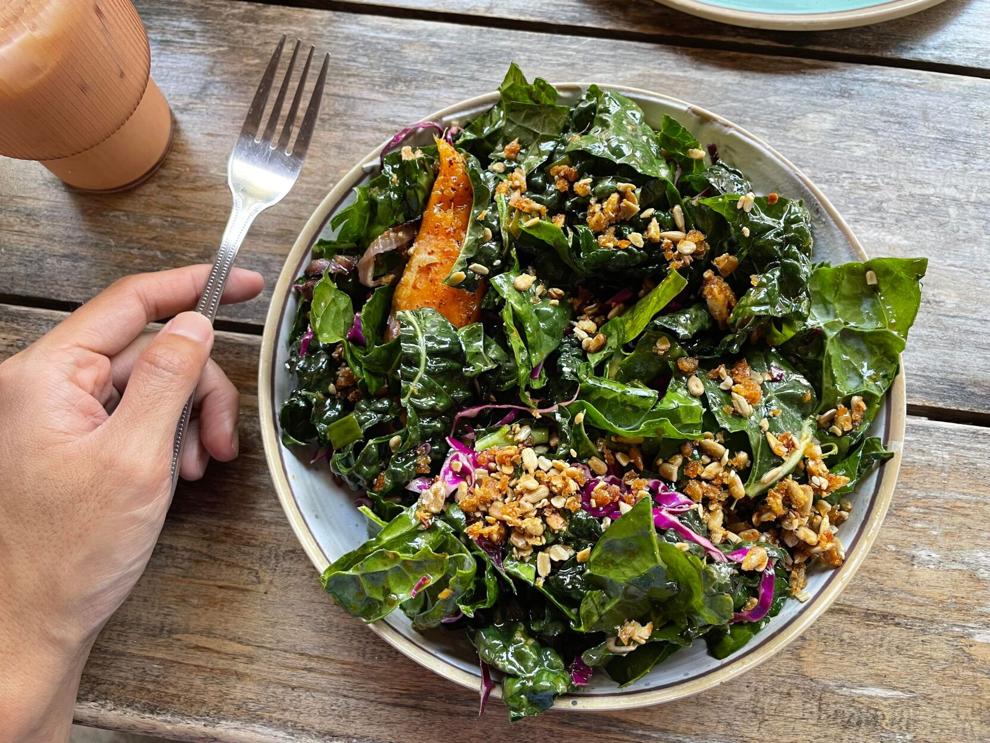 The problem with salads, for me, is that they often lack character. There is a predictability about it: a mix of crispy greens with a dressing and mound of cheese, sometimes with some bacon tossed in for saltiness and curb appeal or fresh wedges of tomato on the side — because nothing says summer like a freshly cut tomato. Salad often feels like a box to check on a menu, rather than a really thoughtful offering that is both exciting and substantial.
The sweet potato bowl at SmallSugar defies the salad equation by adding just a little more to it. The bowl starts with chopped greens that are well tossed in a ginger-soy vinaigrette that acts more as an accent to the salad than a dominant force that dressings can often be. This move somewhat softens the hardy greens — a mix of dinosaur kale and red cabbage here — but still leaves a good bite. It's then dressed with toasty sunflower seeds to offer some crunch.
Nestled neatly under are two roasted sweet potatoes that offer a burst of sweetness. The combination of creme fraiche and caramelized onions are really what makes this bowl though by messing around with temperatures. You get both warmth from the onions and a nice cooling effect with the creme fraiche which also adds some tartness and creaminess to the whole bowl.
What I love about all of this is how everything is constantly shifting and changing as you eat it. At first you have the still slightly crisp greens and seeds that are still soaking in the mildly gingery vinaigrette. Then you start digging in and you get pops of sweetness from the red onion and sweet potato. Finally the creme fraiche comes in and melds all these flavors together.
It's a rarity these days, but it's really nice to see a lot of different pieces unite and work together to achieve something meaningful. BACH PHAM
Crave Market's Asian Salad 
2843 Millwood Ave. 803-254-1001. cravespecialties.com. $10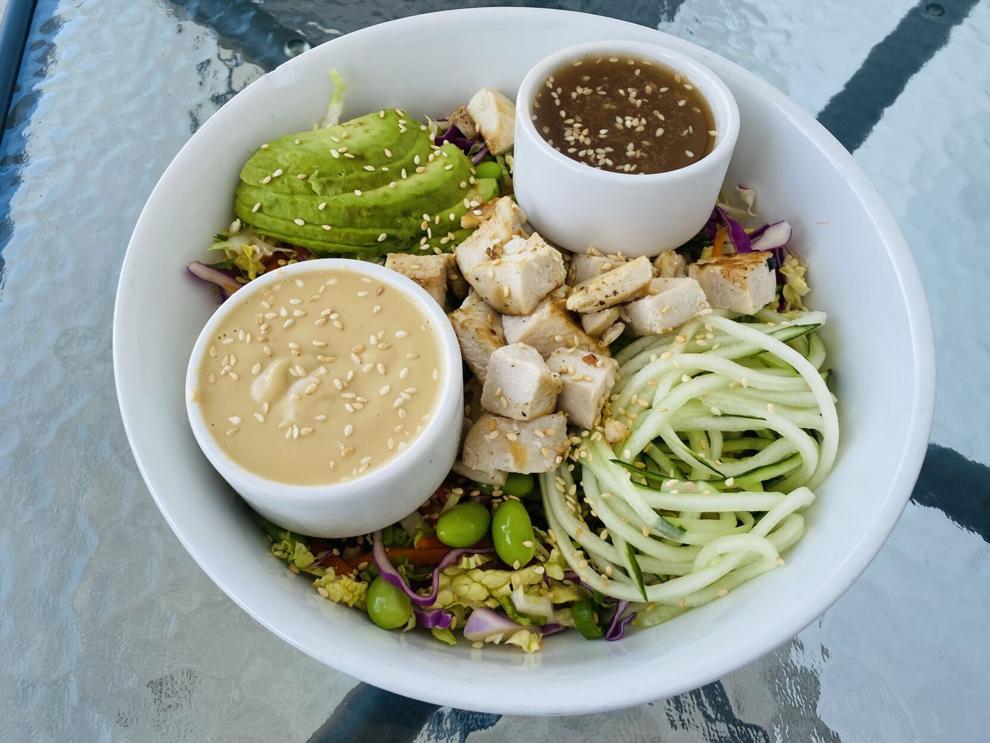 Crave regularly fills to the gills with Melrose Heights walk-ins along with downtowners who trekked over on their lunch hour to satisfy a hankering for an exquisitely composed sandwich.
Everything in their lineup, served between Turano or focaccia bread, slaps and it's all curated with local touches from City Roots organic microgreens to the homestead goat cheeses trotted out by Aiken's Trail Ridge Farm and Dairy.
But since I picked up a WHOOP fitness tracker, I've been on a health kick, consciously dialing back my carb intake. As someone who devours at least a couple salads a week, when I find a true big leaguer I take note.
This cafe's Asian salad gets my vote for the Midlands' finest. Often when restaurants ascribe a leaf pile to earth's largest continent, they attempt to find Far East street cred with schlocky gimmickry — crop dusting crispy chow mein noodles or wonton strip toppers, a la a bagged supermarket mix and serve salad.
Crave doesn't play games and simply keeps it clean, fresh and delicious. There's dueling red and green cabbage, edamame and noodled cucumbers provide a varied crunch. Tying it together is the the creamy avocado on top, the fresh bib lettuce lurking below and the liberal sprinkling of toasted sesame seeds throughout.
Pro tip: Add another flavor dimension by mixing in sesame ginger dressing alongside creamy cashew. There is a .75 cent up-charge to make a vinaigrette mash-up happen but the zesty kapow the tag-team offers is worth it. Toss in chopped chicken breast for $2 to get that protein. MIKE DOJC
Rosewood Market's Build-Your-Own Grain Bowl
2803 Rosewood Drive. 803-765-1083. rosewoodmarket.com. Price varies, $16.
At Rosewood Market you can find locally grown veggies, fruits, organic and whole foods, and snacks of all kinds. But can you find salads? Of course, you can purchase top quality goods to make your own at home, but the fresh food bar inside offers a variety of toppings for what one might assume is a salad, however, "grain bowl" is the technical term for what is served there. If you're looking for something like a salad but hoping for a boost of protein you can pick from options like tofu, salmon, and chicken. Served on a bed of rice or quinoa these build-your-own bowls may look a bit like a salad, but they pack a heftier punch.
For my bowl, I chose a base of quinoa with cilantro black beans as the protein, added roasted mushrooms and sweet corn along with soft feta cheese, sprouts, and topped it off with a sriracha mayo dressing. The gently roasted mushrooms and beans over quinoa created a great texture contrast with the crunchy sprouts and sweet corn. The freshness of the cilantro complemented the spicy bite of the sriracha so well that I finished the bowl in one fell swoop. EDEN PRIME
Sound Bites Eatery's Hummus Among Us Salad 
1425 Sumter St. 803-708-3085. soundbiteseatery.com. $12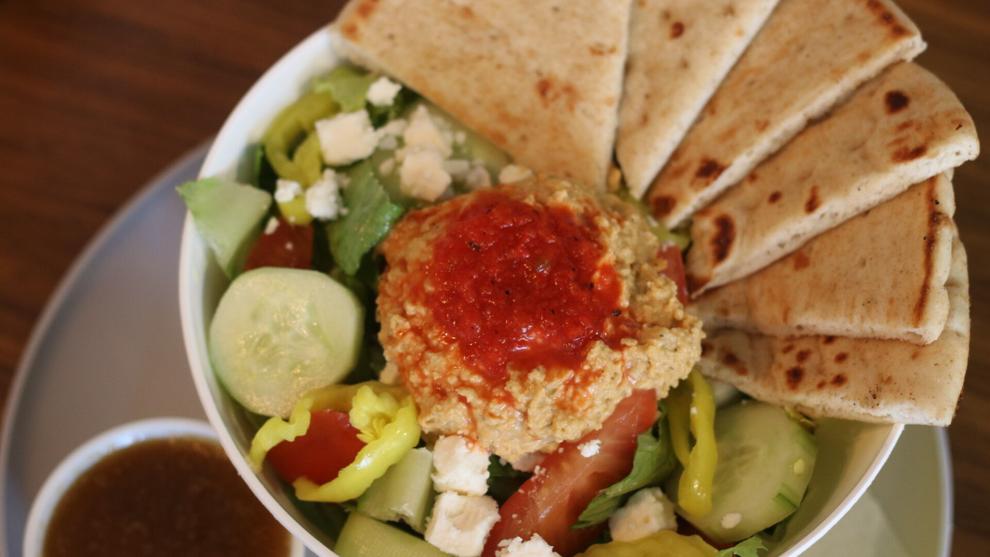 At the recently opened Sound Bites Eatery just a block removed from Main Street, you'll find an extensive list of salads to choose from — all with amusing names like Slammin' Salmon and Mighty Mediterranean.
The one that got my attention was the Hummus Among Us Salad. The salad was a top-notch Greek salad, complete with staple ingredients like tomatoes, feta cheese, cucumbers and onion, while also including other popular ingredients found in Mediterranean cuisine.
The centerpiece of the salad is hummus, a staple Mediterranean spread made from ground chickpeas and blended with spices. The thick, paste-like dip neutralizes a lot of the salad's tangy flavor, created by the bright array of vegetables and vinaigrette dressing.
Topping the salad is warm pita bread that will certainly fill you up if the hearty salad doesn't. It's an affordable meal with ingredients that not only satisfy, but also please your taste buds. HANNAH WADE