Sneak Preview: Make this Bread Machine Focaccia with Rosemary and Parmesan using a bread machine to mix and knead the dough—perfect for a bread-making beginner. Make your focaccia thick or thin since you are the bread-baking boss.
As an Amazon Associate, I earn from qualifying purchases.
Have you tried to make bread before and it wasn't what you hoped? I get it. The entire process can be intimidating. Throw a bread machine into the mix and things can go downhill fast.
This easy bread machine focaccia is a cinch to mix and knead. Let the machine do it. The shaping process is similar to pizza. It's a great recipe for beginning bread-bakers.
The recipe for this easy focaccia starts with my Favorite Pizza Dough Recipe. However, the dough thickness and the toppings make focaccia different from pizza. When you make it, you get to decide how thick and bready or thin and crispy your focaccia will be.
Another distinction between pizza and focaccia is that pizza only has one rise–before you shape the dough, top it, and bake it. With focaccia, you shape the dough after the first rise, then let it rise again before adding the toppings and baking.
If you're a whole grain person, use this Whole Wheat Pizza Dough Recipe for the base and add the rosemary and Parmesan toppings.
Don't feel left out if you don't have a bread machine. This flavorful focaccia can be made by hand or with a stand mixer. See the recipe notes for details.
---
Can I use a bread machine to mix and knead focaccia?
I recommend using a bread machine to mix and knead the dough. When the DOUGH cycle ends, remove the dough and shape it by hand. Let it rise again, then bake your focaccia in a conventional oven.
That's how all of my bread recipes work. I include the details (oven temperature, size of the pan, time, etc.) in each recipe.
---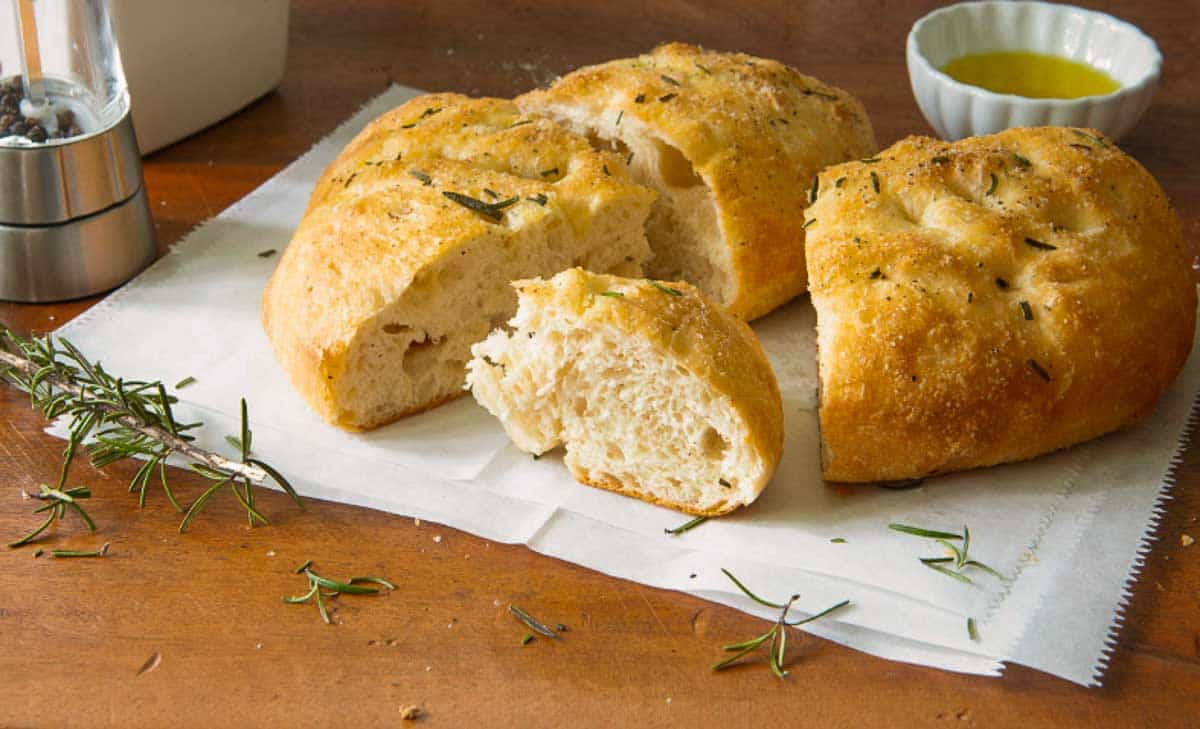 Ingredients and common substitutions:
Water: This is not a fancy recipe. Tap water is fine. So is filtered water, spring water, whey from straining yogurt, or potato water. (Potato water is water drained from cooking plain white potatoes.) Although I don't recommend icy cold water, warm water is unnecessary. The friction of the bread machine paddles will warm all ingredients in a hurry.
Sugar: The small amount of sugar specified in the recipe is snack food for the yeast. Use granulated sugar or brown sugar.
Salt: I make bread with sea salt or table salt because everybody has it. If you prefer Kosher salt, add ¼ teaspoon more. Don't leave out the salt. It plays a vital role in controlling the yeast. Without salt, your bread with be bland. If the amount of salt is an issue, try reducing it in half and see how your bread does.
Olive Oil: Whatever olive oil you have on hand will serve the purpose. Substitute another vegetable oil at the risk of less flavor.
Honey: Honey lends a complex flavor to this recipe. Light corn syrup or maple syrup will suffice, but the flavor profile will change.
Flour: To keep this recipe super simple, I use all-purpose flour. If you want more rising power and chewiness, use bread flour instead. Your focaccia will taste fabulous either way.
Yeast: I always use bread machine or instant yeast. It's ideal for all bread machine recipes. If you only have active dry yeast, add ¼ teaspoon of extra yeast to compensate.
Rosemary: I recommend fresh rosemary. I'm not sure it's worth using dried rosemary–it might be better to leave it out.
Parmesan: Fresh grated or thinly shaved Parmesan Reggiano is the only kind of Parmesan worthy of your homemade focaccia. The green can is banned at my house.
---

---
How to mix bread machine focaccia: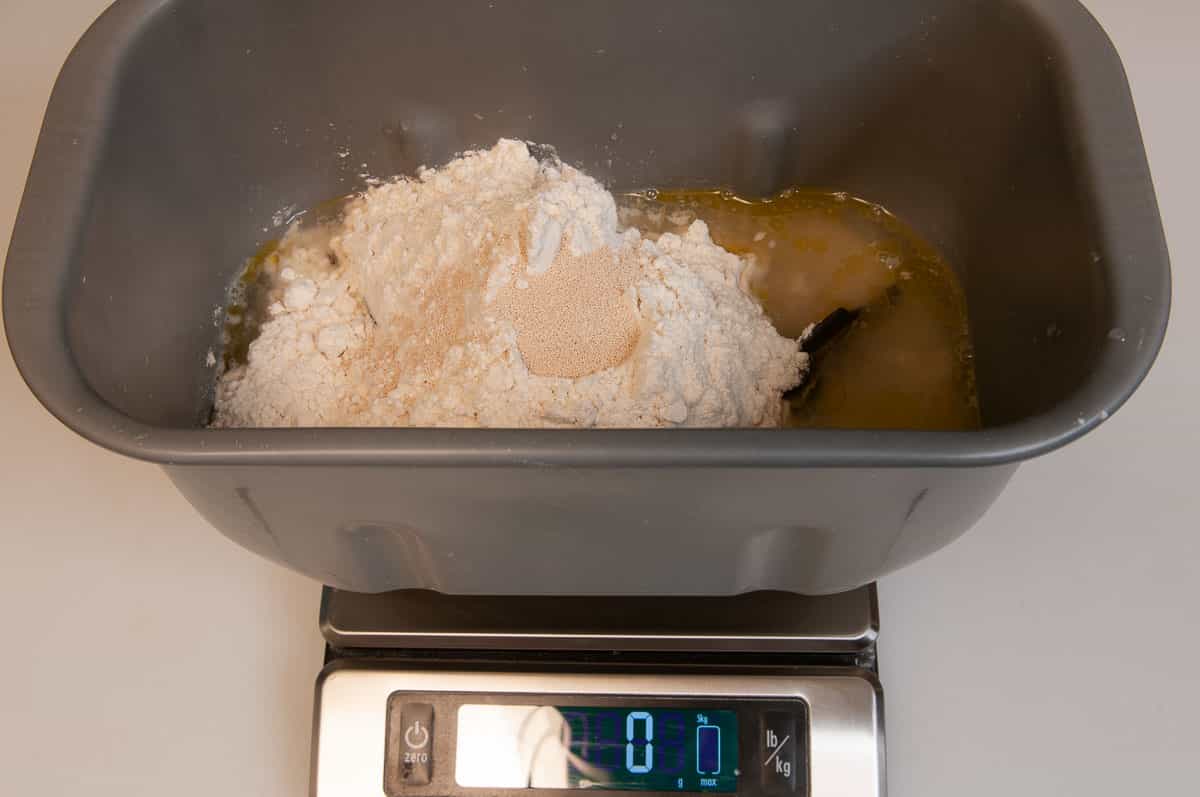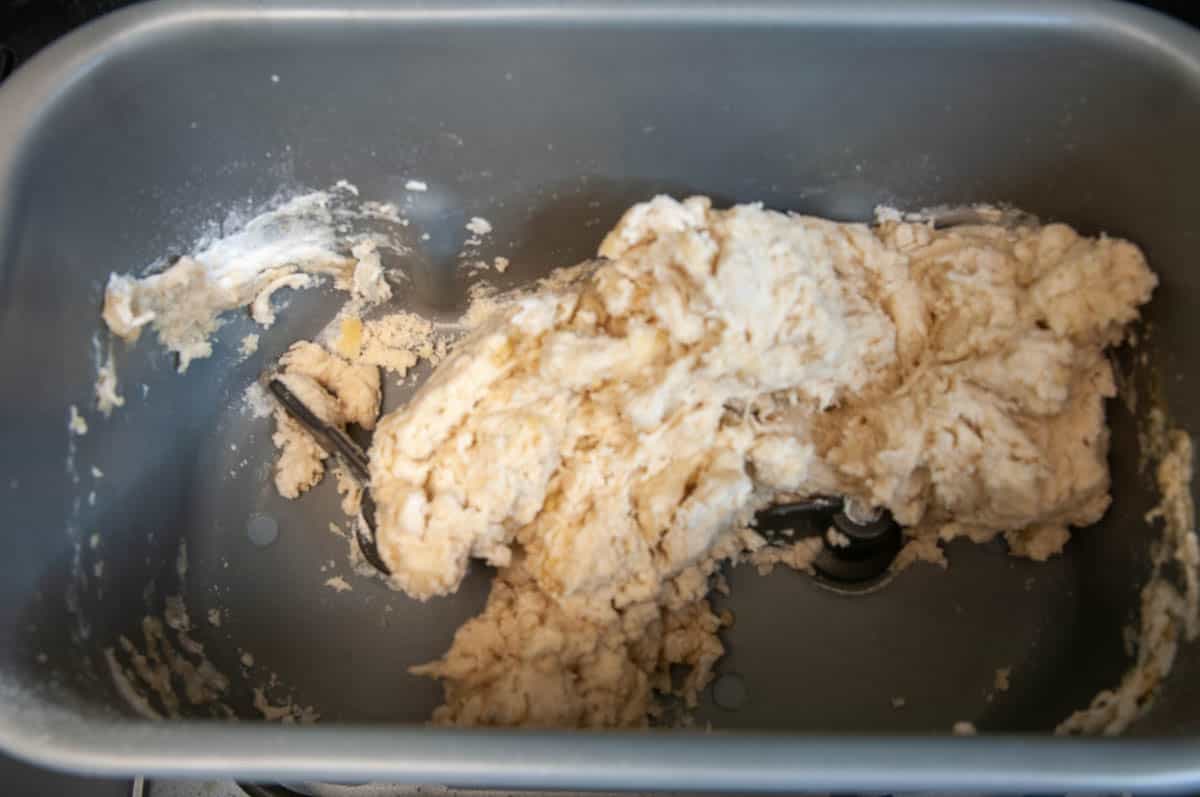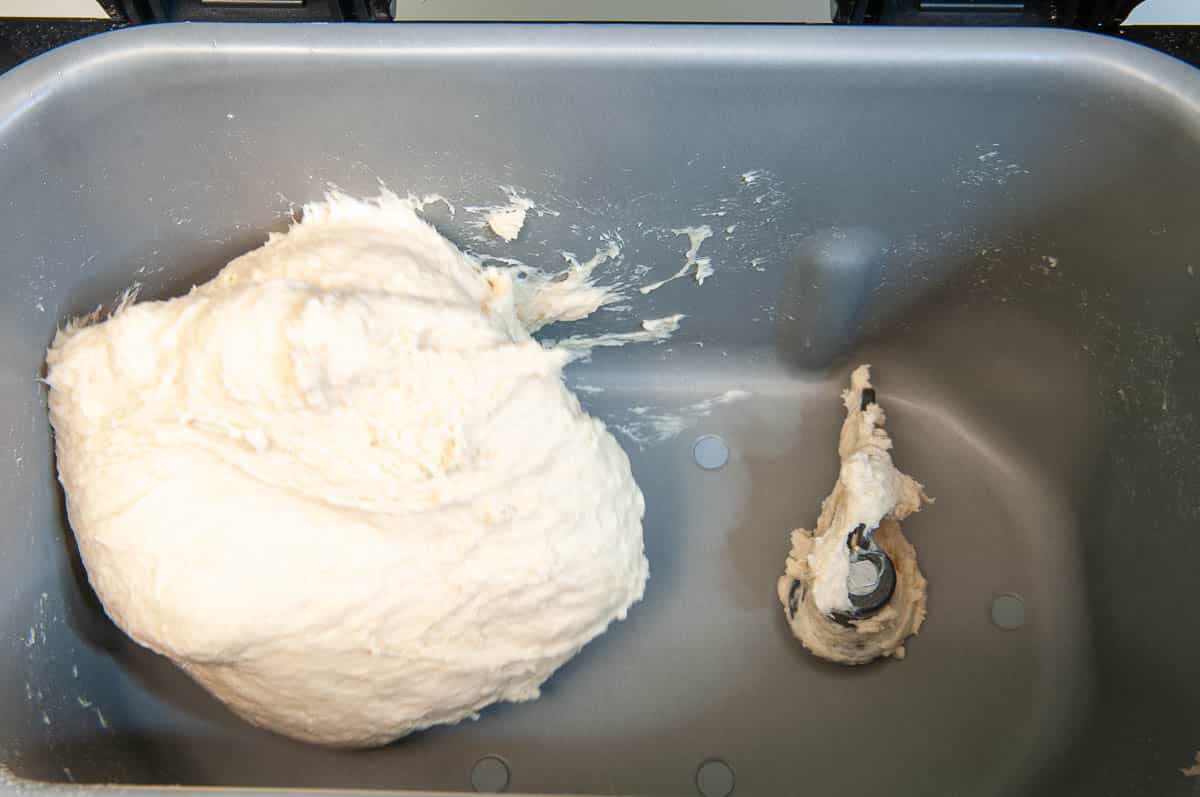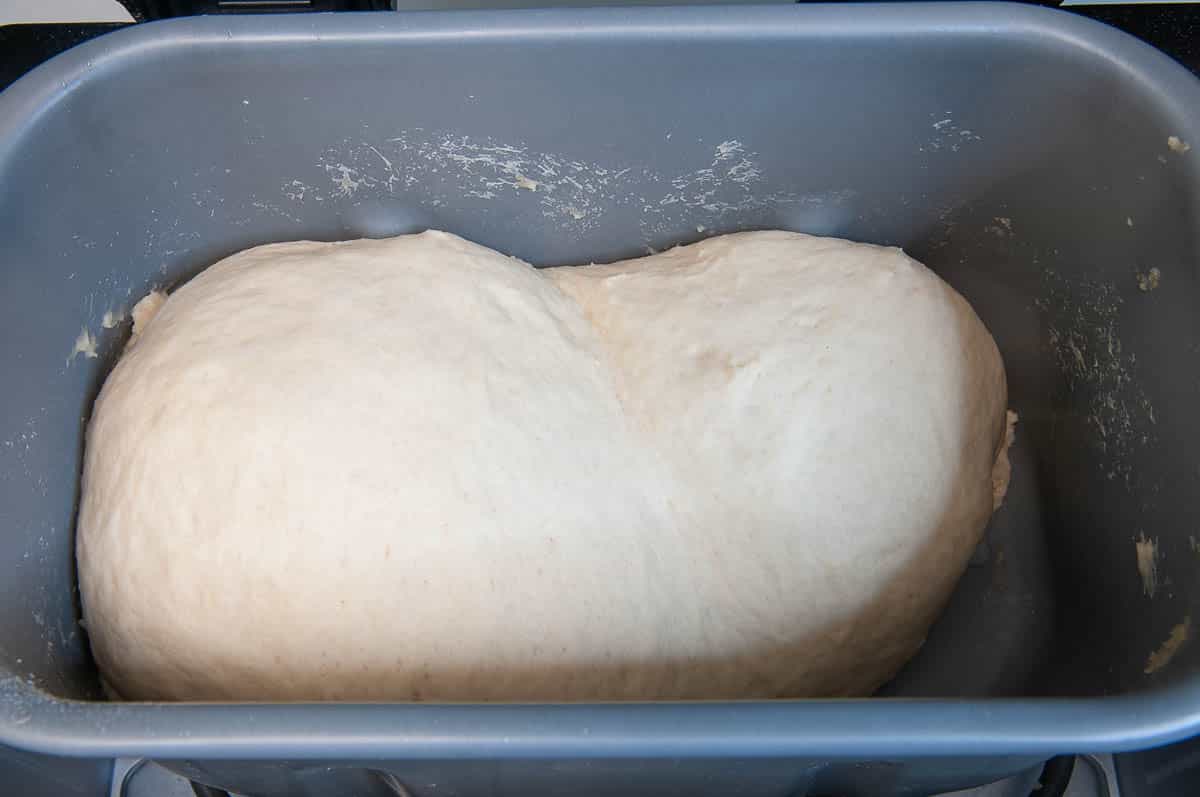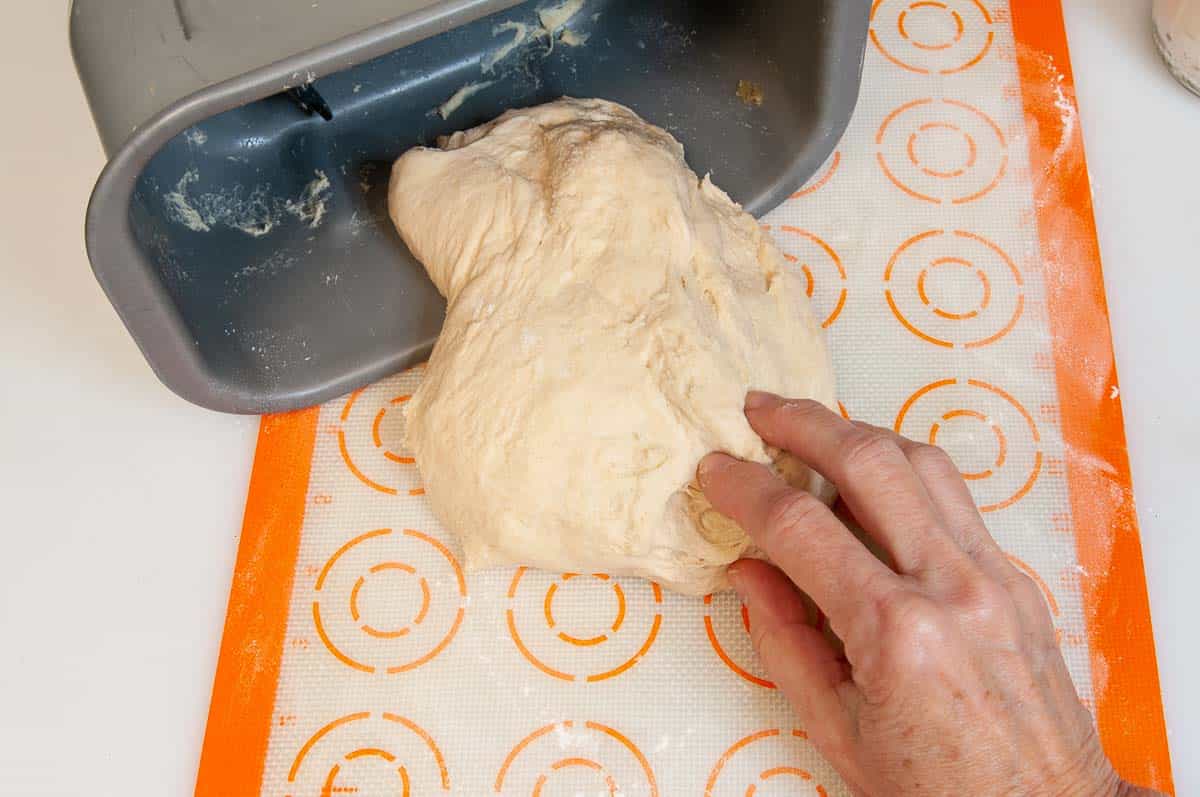 ---
How to shape focaccia: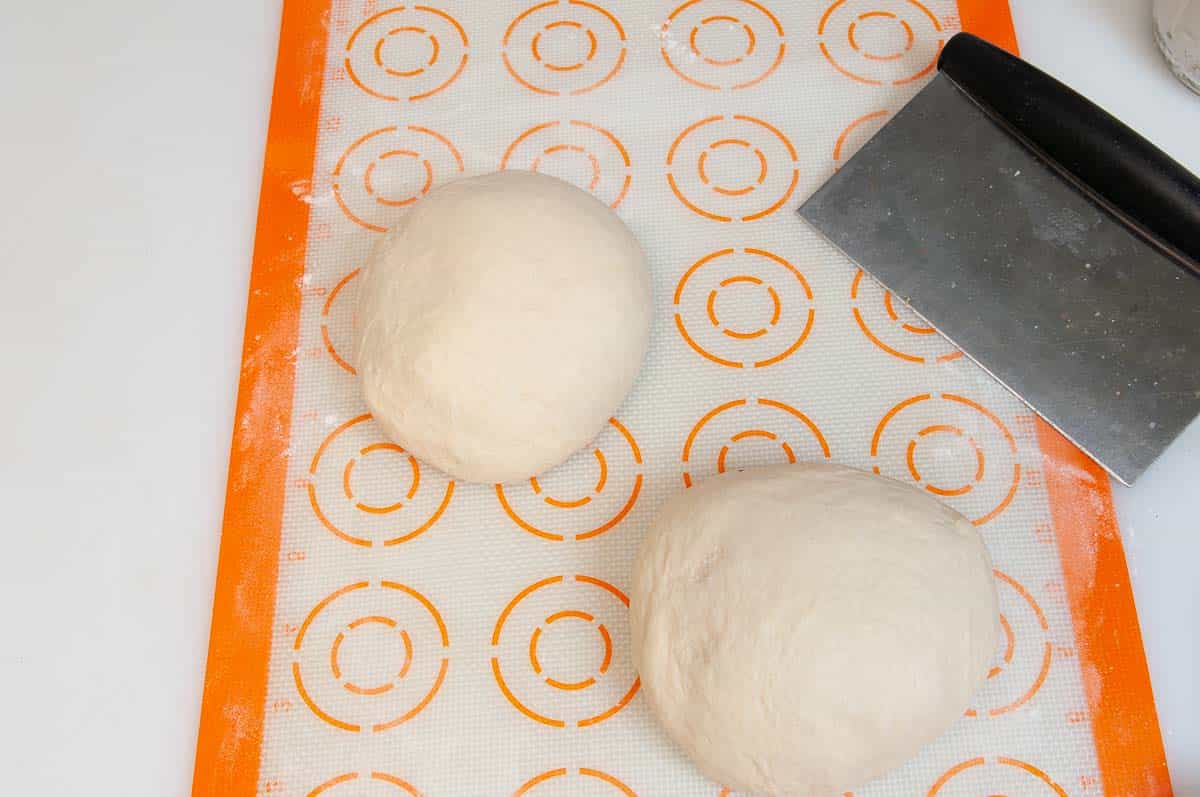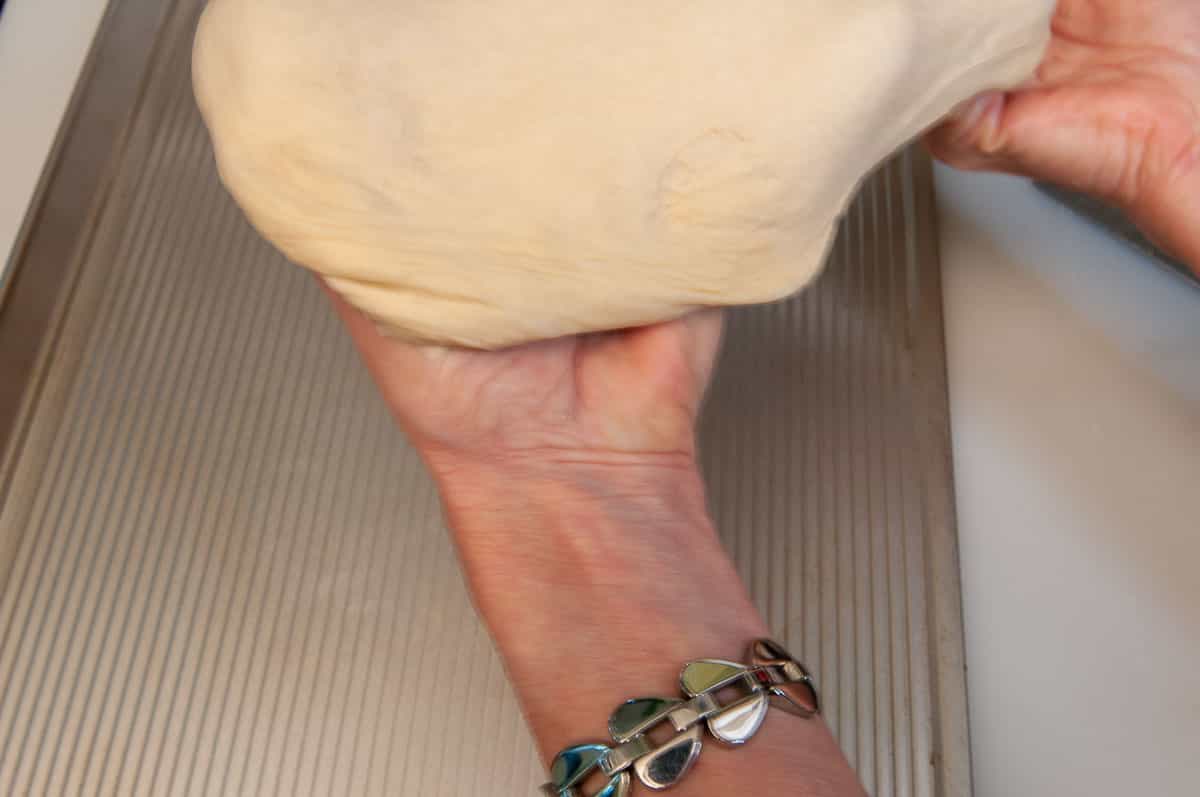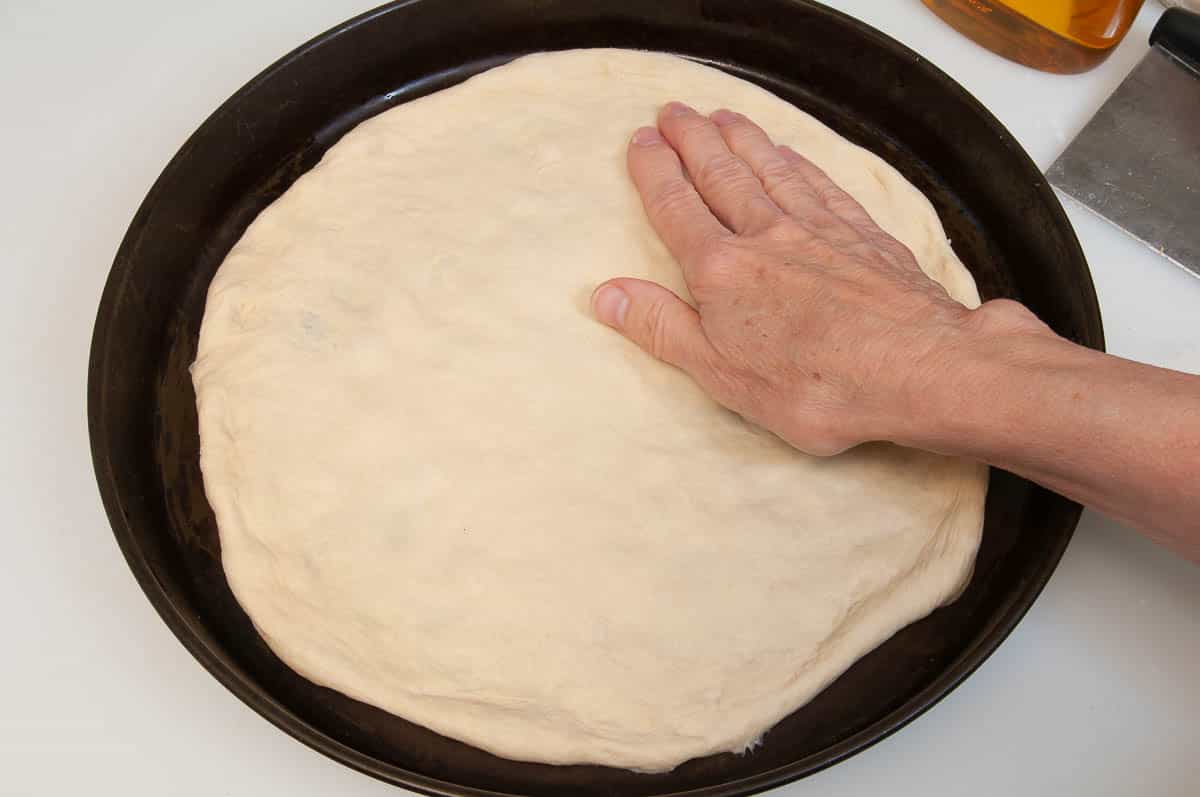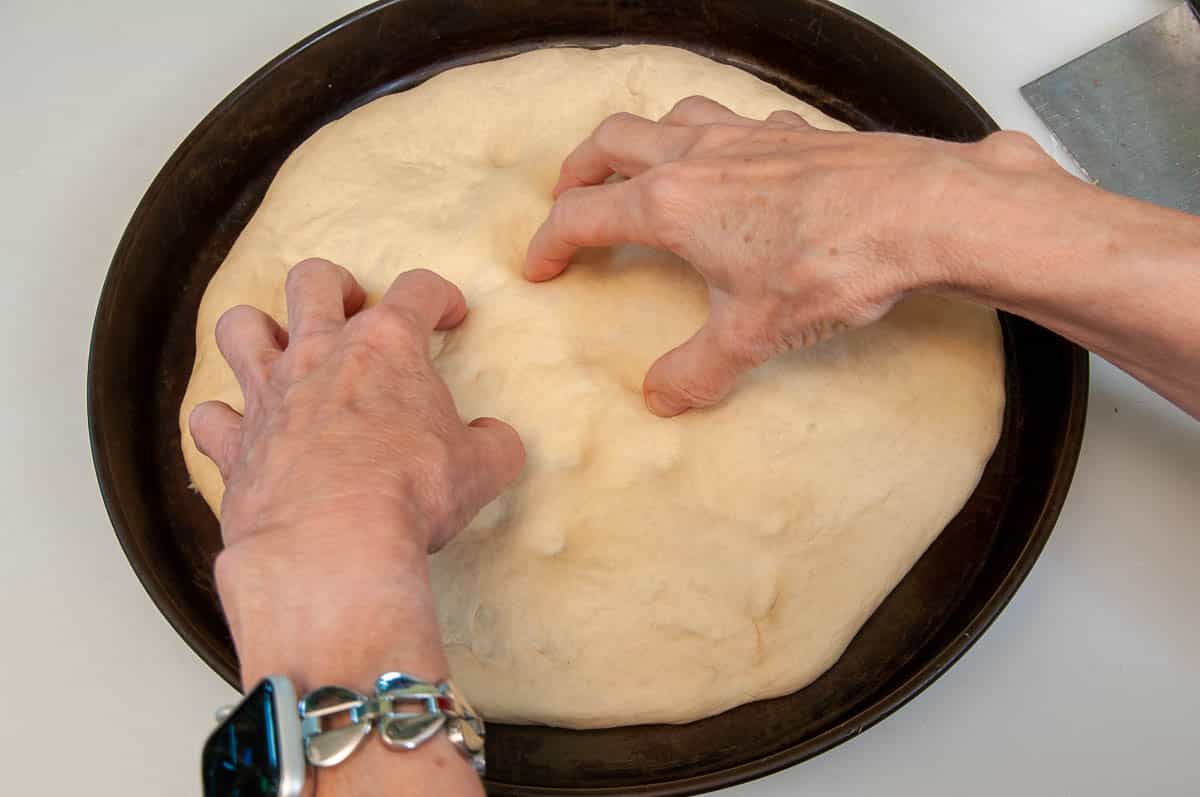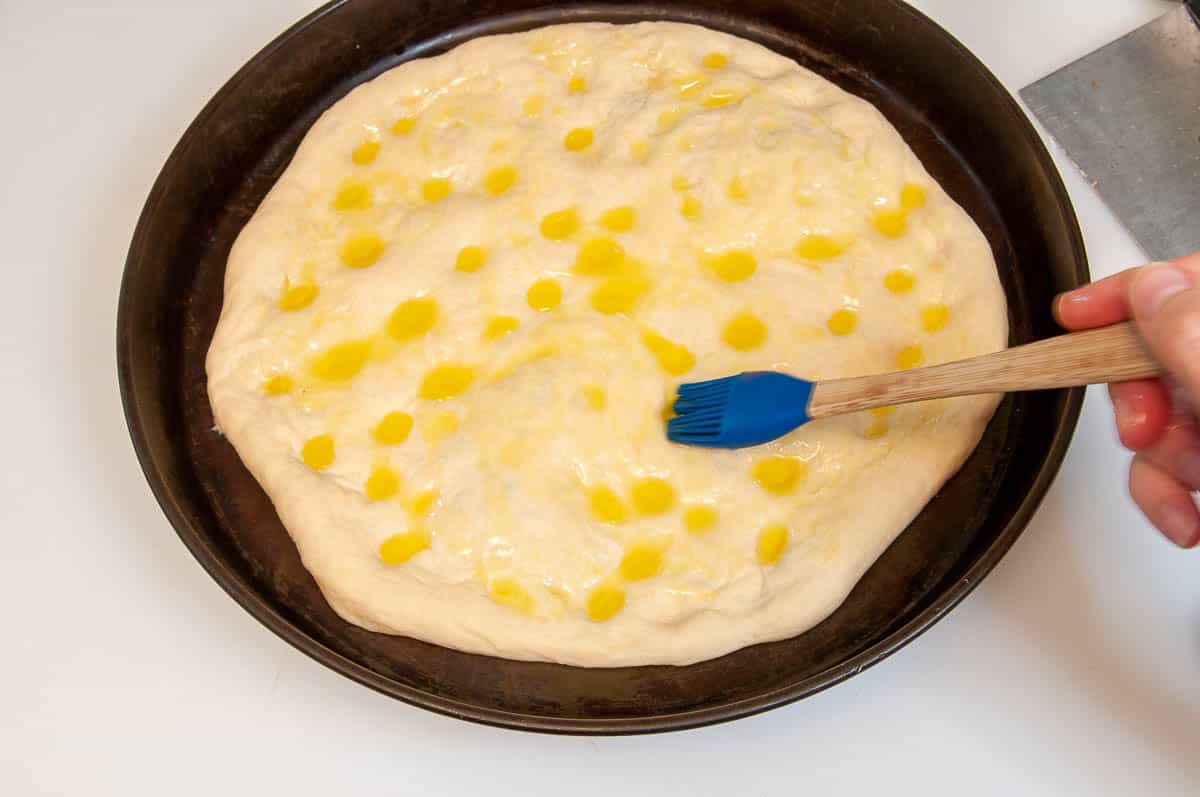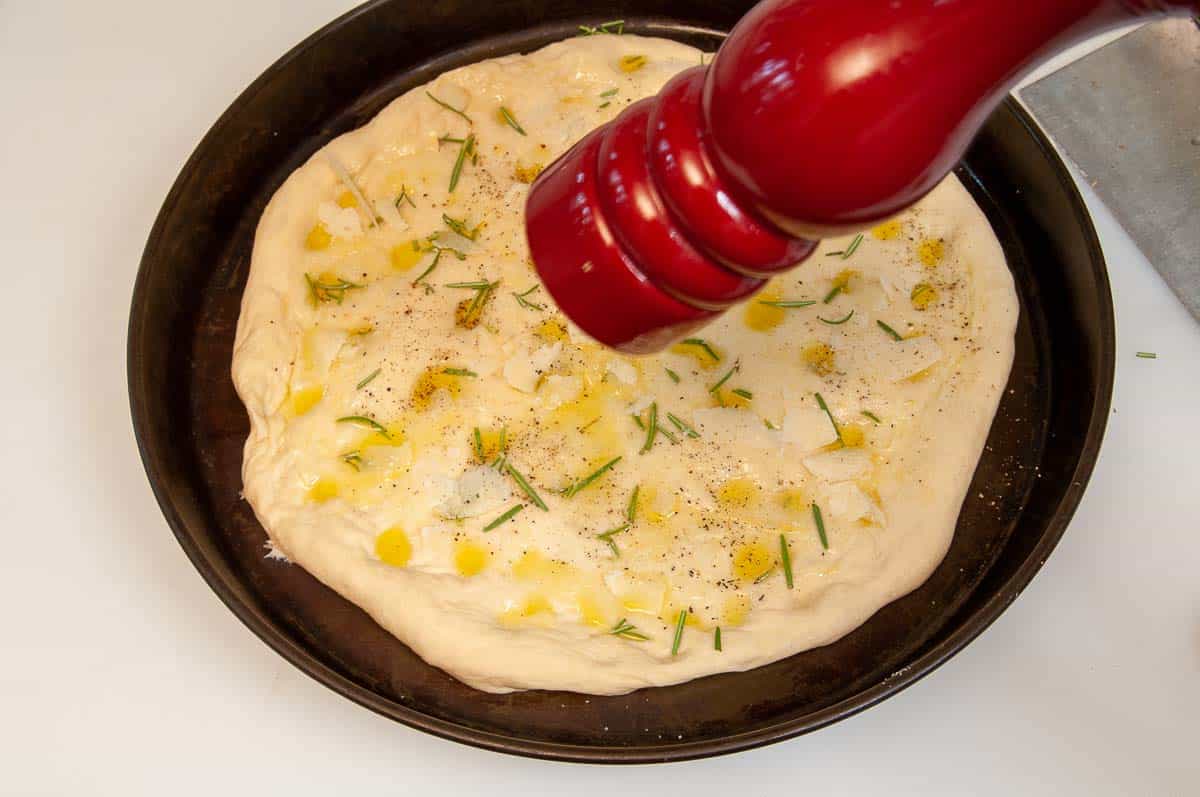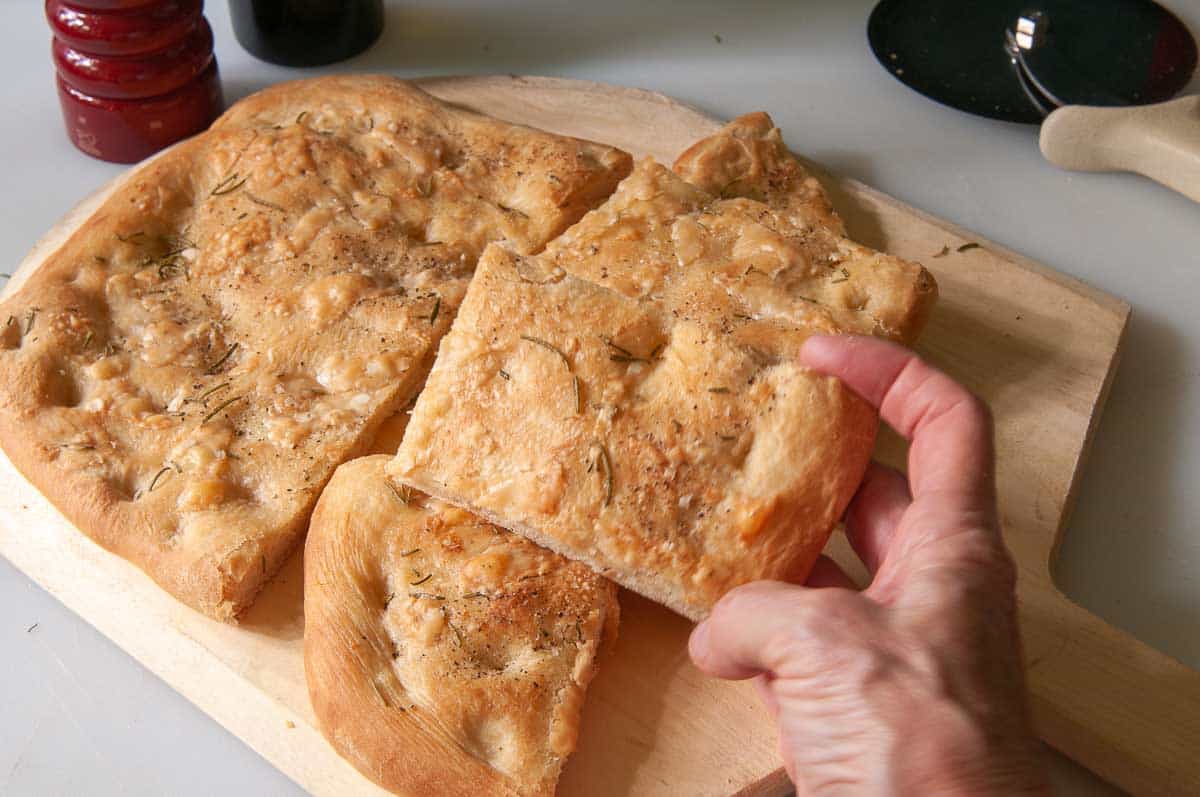 ---
Frequently asked questions:
How do I serve focaccia bread?
Rosemary-Parmesan Focaccia is terrific with pasta.  Use a pizza cutter to cut wedges like you would cut a pizza.
It's also suitable for sandwiches if you make it thick as shown in the picture below. Split the focaccia in half horizontally. Toasting is optional.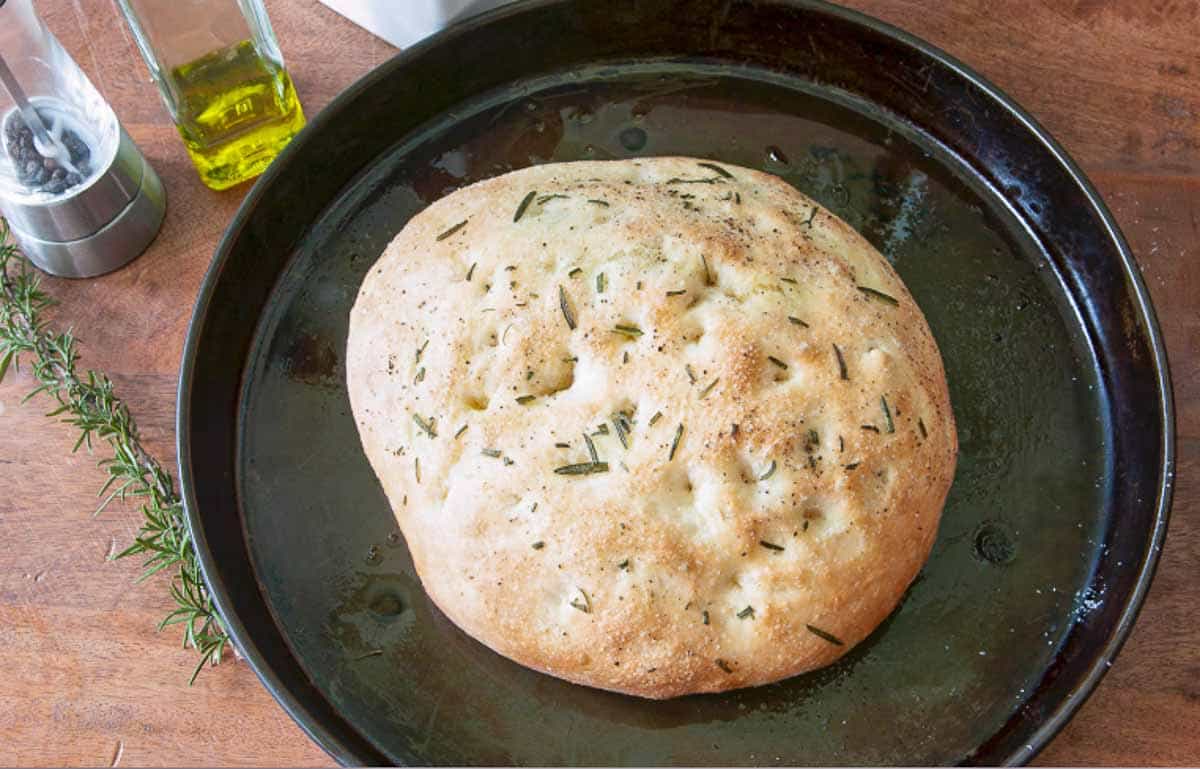 What does the dough cycle do on a bread machine?
First, the DOUGH cycle mixes and kneads the dough. Then, the machine goes quiet to allow the dough to rise. After 40-45 minutes (timing varies), you may hear the machine come on briefly to knock the dough down. After that, the DOUGH cycle allows for one more rise, usually lasting around 22 minutes. At the end of the DOUGH cycle, you must remove the dough from the machine to shape it and bake it.
How long does bread knead in a bread machine?
The kneading phase differs according to the manufacturer. Check your manual for the specific time. It takes about 20 minutes to mix and knead the dough with a bread machine.
Is machine kneading better than hand kneading?
Usually yes. Few people can knead bread by hand better than a machine does it. In my experience, a bread machine is the best kneader in town. The timer makes all the difference! You can also use a stand mixer, but you must stand over it and know when to stop it.
---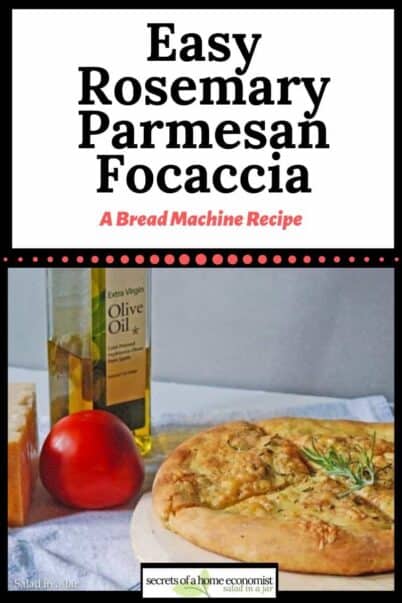 ---
If you have questions or suggestions, email me privately to Paula at saladinajar.com. Hope to see you again soon! Paula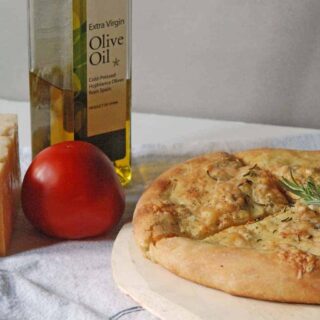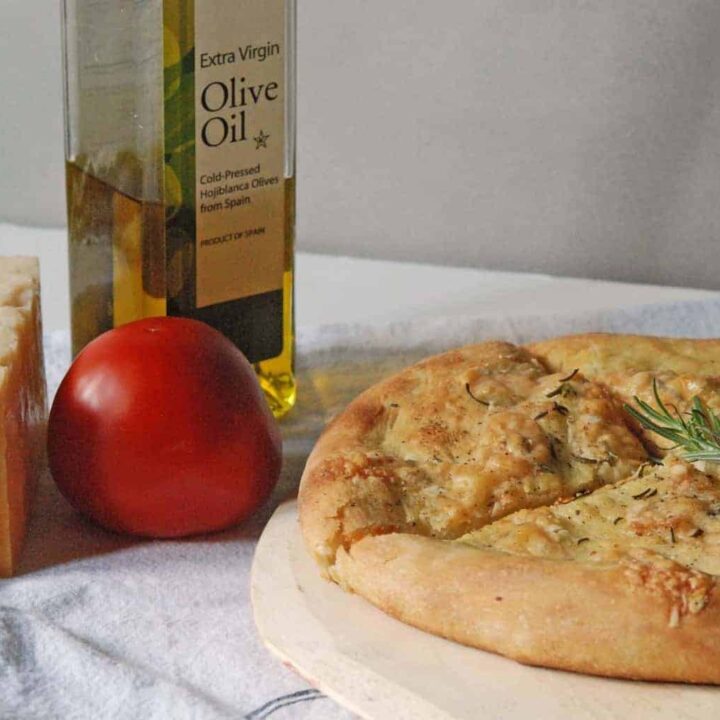 Bread Machine Focaccia Recipe
Bread Machine Rosemary Parmesan Focaccia is easy to mix and knead in a bread machine. Then, shape it by hand, let it rise again, add the toppings, and bake it in a conventional oven.
Dough
1

cup

water

–

227 g

1

teaspoon

granulated sugar

–

4 g

1

teaspoon

salt

–

6 g

2

tablespoons

olive oil

–

25 g

1

tablespoon

honey

–

21 g

3

cups

unbleached all-purpose flour

–

360 g

2

teaspoons

bread machine yeast

–

6 g
Rosemary-Parmesan Topping
2

tablespoons

olive oil

2

teaspoons

fresh rosemary

freshly ground black pepper

1

teaspoon

Kosher salt

2

tablespoons

slivered Parmesan cheese
Prevent your screen from going dark
Add ingredients to the bread machine pan in the order given. Select the DOUGH cycle and press START.

The dough should be doubled in size at the end of the DOUGH cycle. If not, leave it in the machine until it rises to double the original size.

Pull the dough out of the pan onto a lightly floured surface. (I like to use a silicone mat because you can throw it in the dishwasher when you're finished.) Lightly knead and shape into a large ball. Then, divide the ball in half and form them into two smooth balls. Let rest for approximately 10-20 minutes.

Place the dough into a 13-inch round pizza pan or a heavy baking sheet and use your hands to flatten the dough. Some people like thick focaccia while others like it thin. Suit yourself. Cover with a tea towel to proof.

Let the dough rise for 30-40 minutes. When the dough is puffy, use your fingertips like a claw to poke random indentations into the surface of the dough.

About 20 minutes before you think the focaccia will be ready to bake, preheat your oven to 425˚F (220˚C)

Drizzle 1 tablespoon olive oil on top of each half. Sprinkle 1 teaspoon of fresh rosemary and freshly ground pepper over the oil. Finally, scatter freshly grated Parmesan cheese on top.

Bake at 425˚F (220˚C) for 12-14 minutes until golden brown.
Directions for making bread with a stand mixer or by hand:
To make this recipe in a heavy-duty stand mixer:  Add ingredients to the bowl in the same order. Turn on LOW to mix until all ingredients are moistened. Then, using a dough hook, turn the speed to 2 or 3. Continue beating/kneading until dough becomes smooth and elastic (about 5-10 minutes). Cover and allow to rise in a warm place. Deflate dough gently and shape as indicated in the recipe.
If making by hand: Combine all ingredients into a shaggy ball in a large bowl. Turn dough out onto a floured surface. Knead with your hands until the dough becomes smooth and elastic. This will likely take 10-20 minutes, depending on your experience. Place the dough ball into a greased bowl. Cover and allow to rise until double. Deflate the dough gently and shape as indicated in the recipe.
Please note: You can substitute active dry yeast. Dissolving it first is optional. It tends to rise slower in the beginning but will catch up eventually.
Nutrition Facts
Bread Machine Focaccia Recipe
Amount per Serving
% Daily Value*
* Percent Daily Values are based on a 2000 calorie diet.