Sneak Peek: These Yeast Cornbread dinner rolls are mixed and kneaded in a bread machine. Cornmeal adds crunch to the crust and interest to the texture. Use yellow or white corn meal for yellow or white rolls.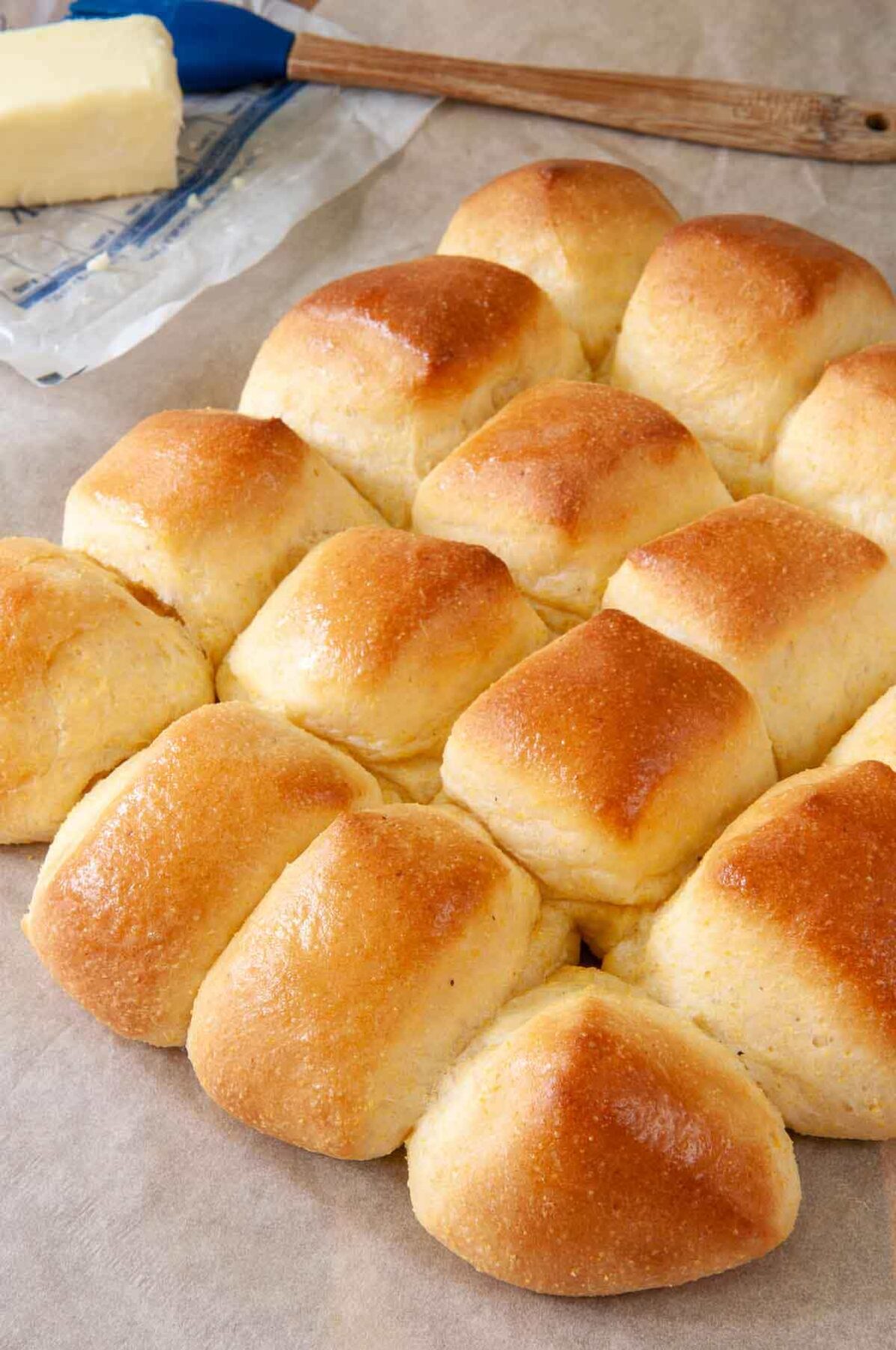 As an Amazon Associate, I earn from qualifying purchases.
Have you ever wondered if you could make traditional cornbread in your bread machine? Of course, it's possible to make it in a way similar to this bread machine chocolate cake. However, I have a different solution for bread machine lovers with this recipe for Yeast Cornbread Dinner Rolls.
In my mind, the disadvantages (see below) of making traditional cornbread with a bread machine have me looking for alternatives:
The cornbread will be the shape of your pan, which may look strange to some people.
The baked cornbread is challenging to extract from the bread machine pan in one piece because of the posts and paddles.
The crust isn't as lovely as when using a conventional oven.
My alternative is to make yeast cornbread rolls with the flavors of yellow or white cornmeal combined with the taste and lightness of yeast. You'll get a soft, chewy, and slightly sweet interior crumb combined with an interesting cornmeal-flecked crust.
I love to serve these with soup or stew. Don't forget to set out the butter and honey for non-dippers.
---

How do you make rolls with a bread machine?
Many of you have read my post, "6+ Bread Maker Tips You Need To Make Marvelous Bread," where I talk about using the DOUGH cycle on your bread machine for all bread recipes. That is how I wrote the directions for this recipe.
In a nutshell:
Mix all the ingredients at once in your bread machine. Let your bread maker do all the hard work. At the end of the DOUGH cycle (where the first rise happens), you will remove the dough, shape it into rolls, and leave them on the counter for the last rise. Then you will bake the rolls in your conventional oven.
---
Ingredients and substitutions:
FLOUR: The recipe calls for bread flour, but you can substitute unbleached flour or bleached all-purpose flour if that's what you have. I prefer bread flour because it contains more gluten than all-purpose flour. Cornmeal has no gluten, so bread flour helps keep the bread from being too crumbly.
CORNMEAL: White (see the old picture below) or yellow cornmeal will work (first picture above). Yellow cornmeal will change the color but still taste great. Even a coarse stoneground meal will work.
MILK: Whole milk, 2%, or fat-free is acceptable. I prefer whole milk for the maximum flavor.
SUGAR: Use granulated sugar. To substitute honey (I would use 3 tablespoons), you may need to add a little extra flour. Learn how to check your dough using this secret.
SALT: I designed this recipe for table or sea salt. If you want to use Kosher salt, use ¼ teaspoon extra.
EGGS: I always use large eggs in all my bread recipes. If you use a different size, adjust the overall liquid in the recipe accordingly. (If using smaller eggs, you may need to add more liquid. Add less liquid to the dough when using larger eggs.
YEAST: Anytime you use a bread machine, instant yeast or bread machine yeast is easier. But if you only have active dry yeast in the house, add 1/4 teaspoon extra to make up for the slowness of active dry yeast. Dissolving active dry yeast is optional with modern-day formulations.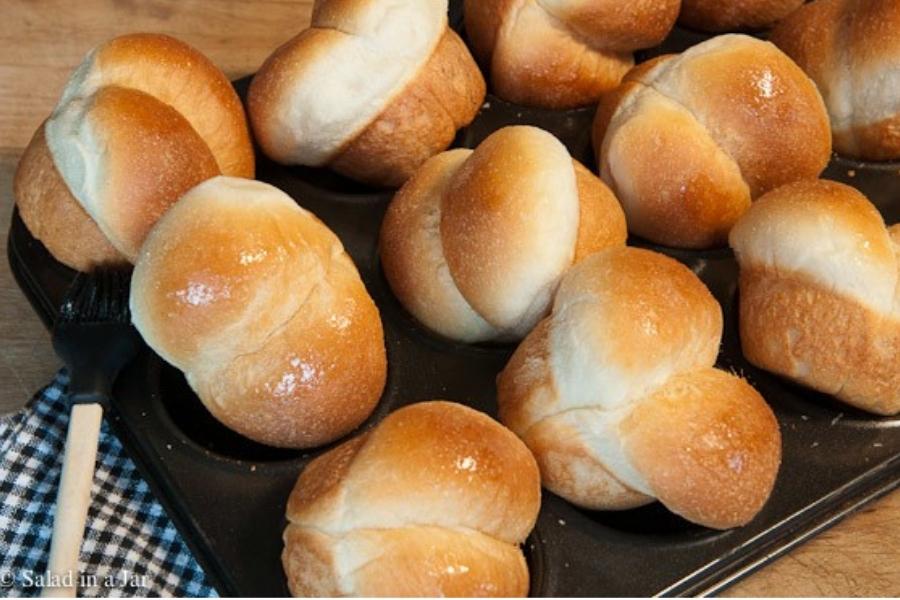 How to make cornbread with yeast: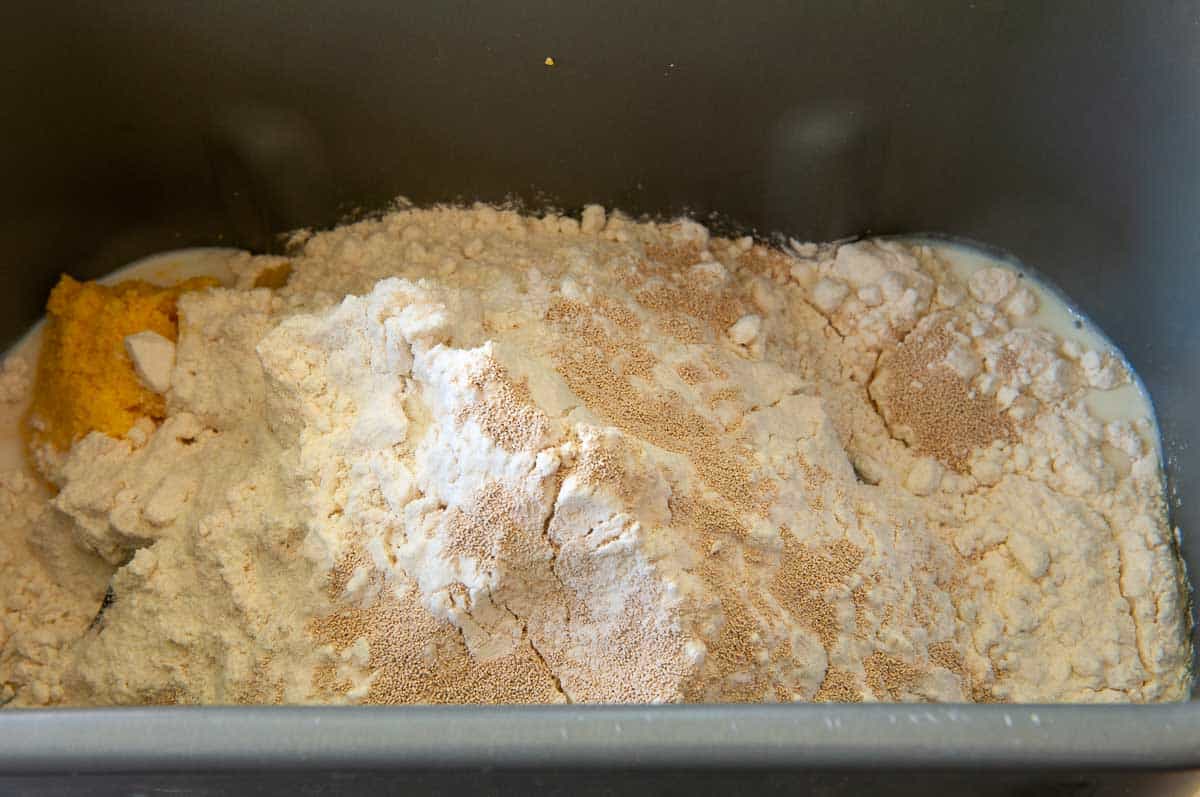 Add all ingredients to the bread machine pan in the order listed. Next, select the DOUGH cycle and press the START button.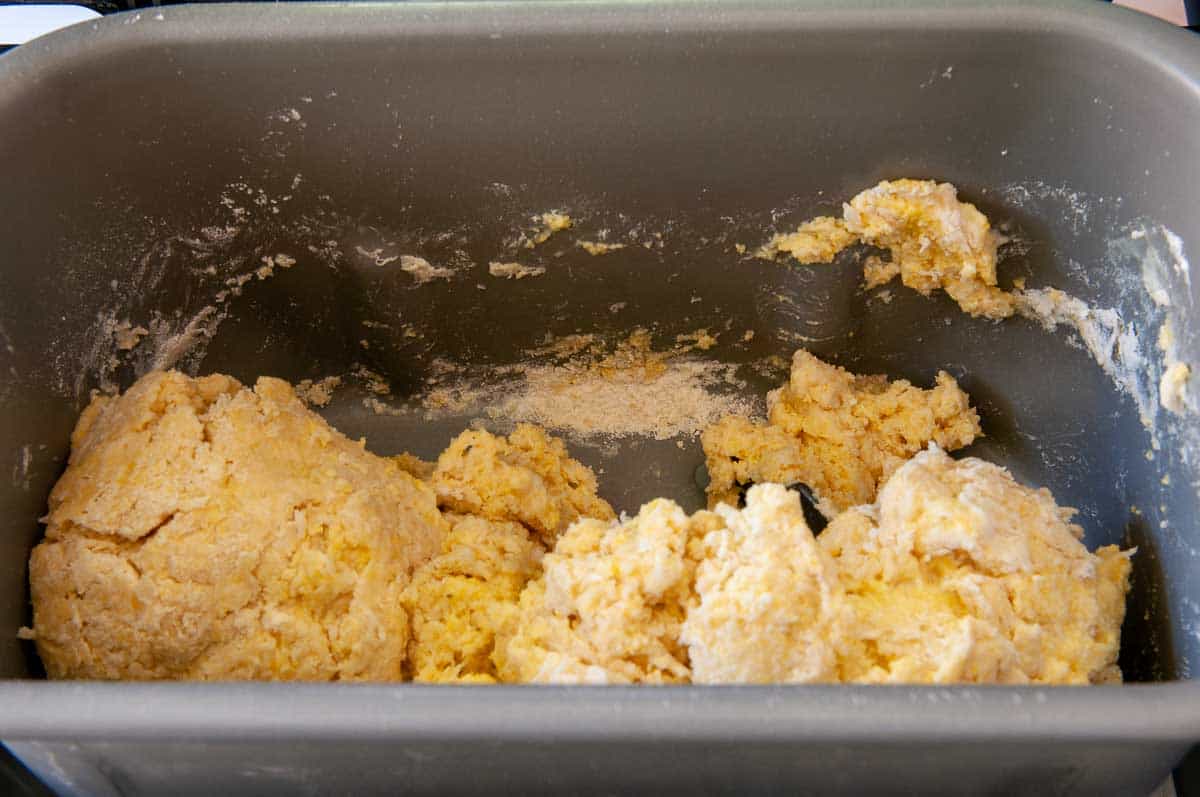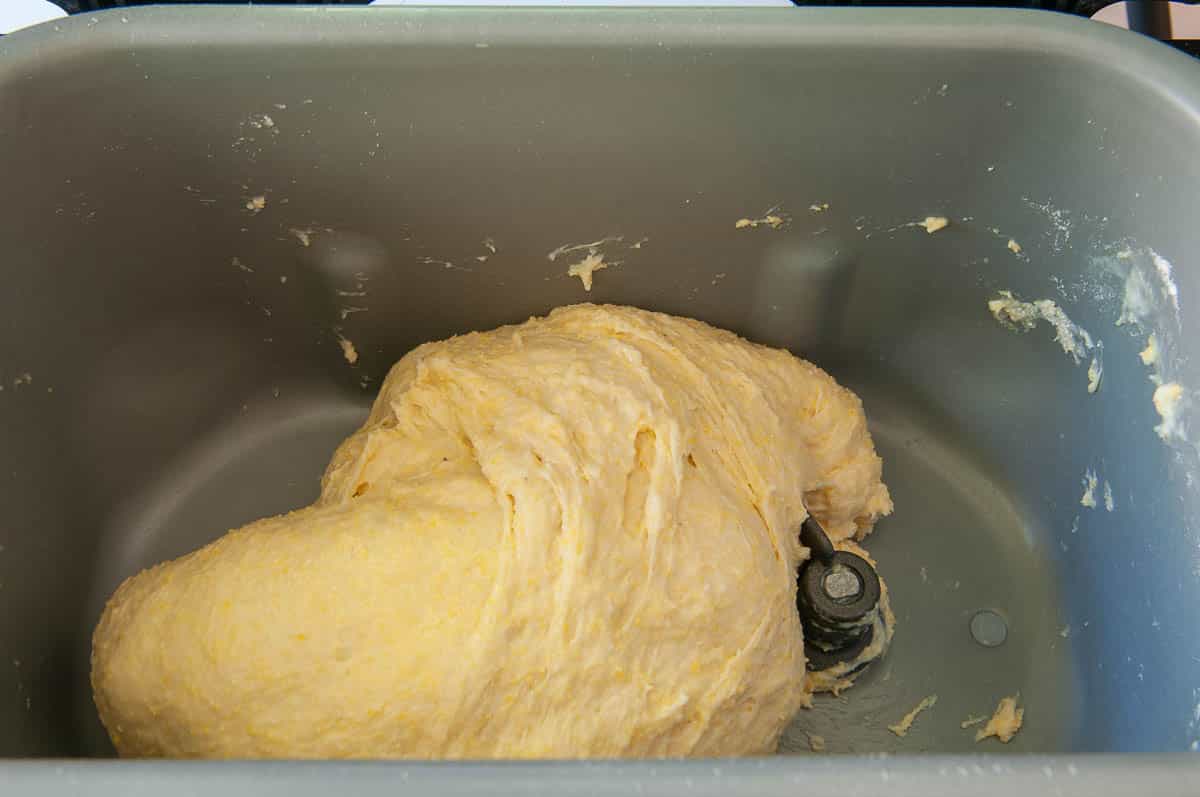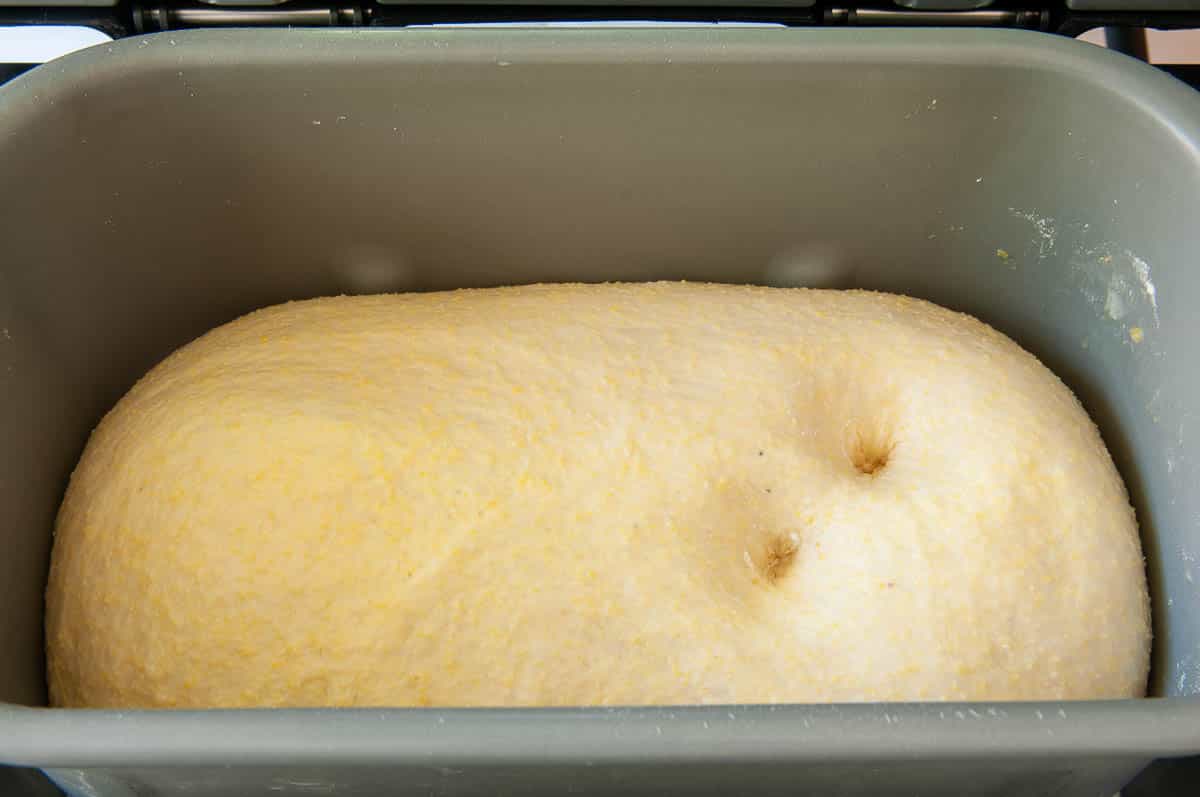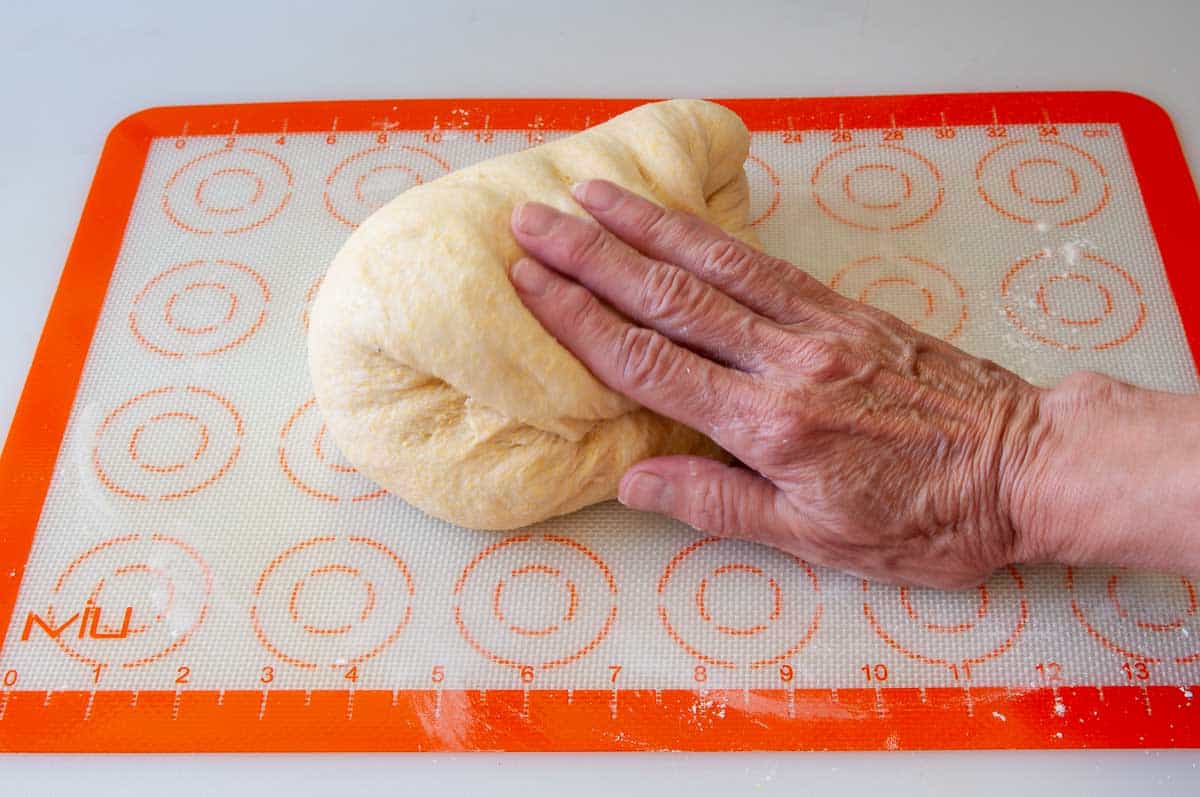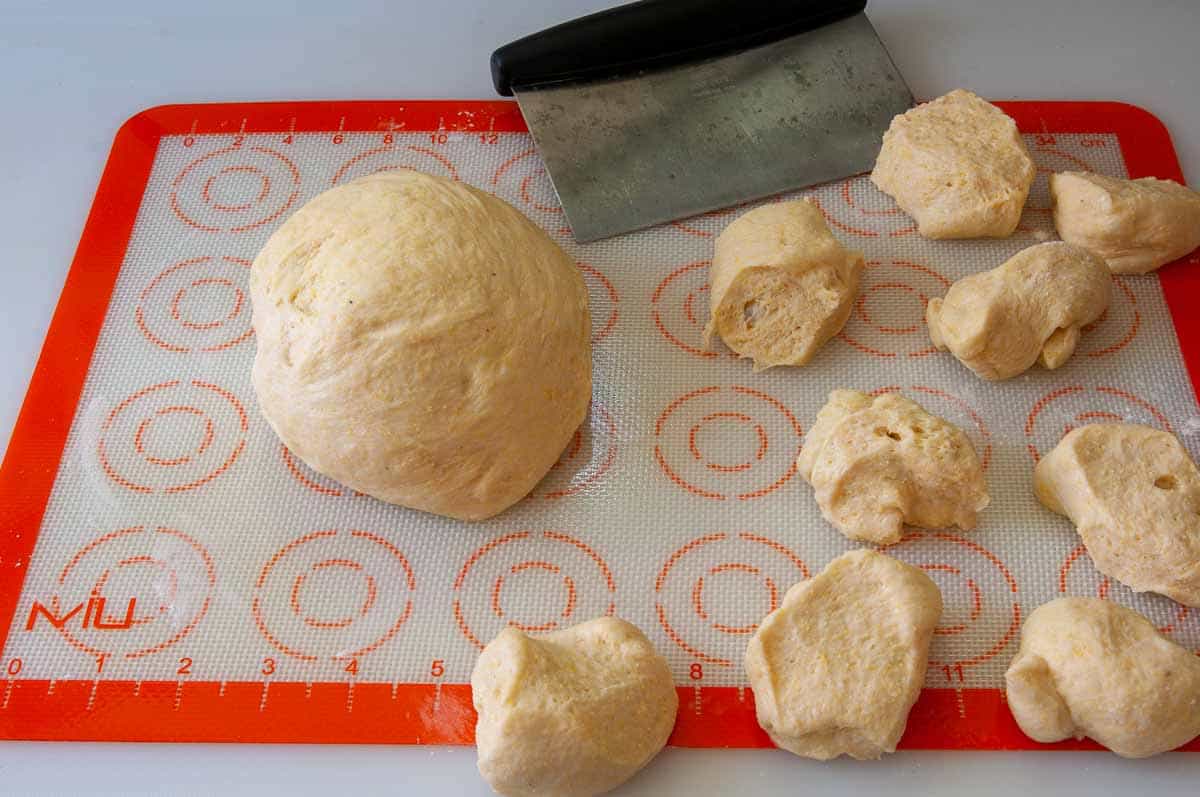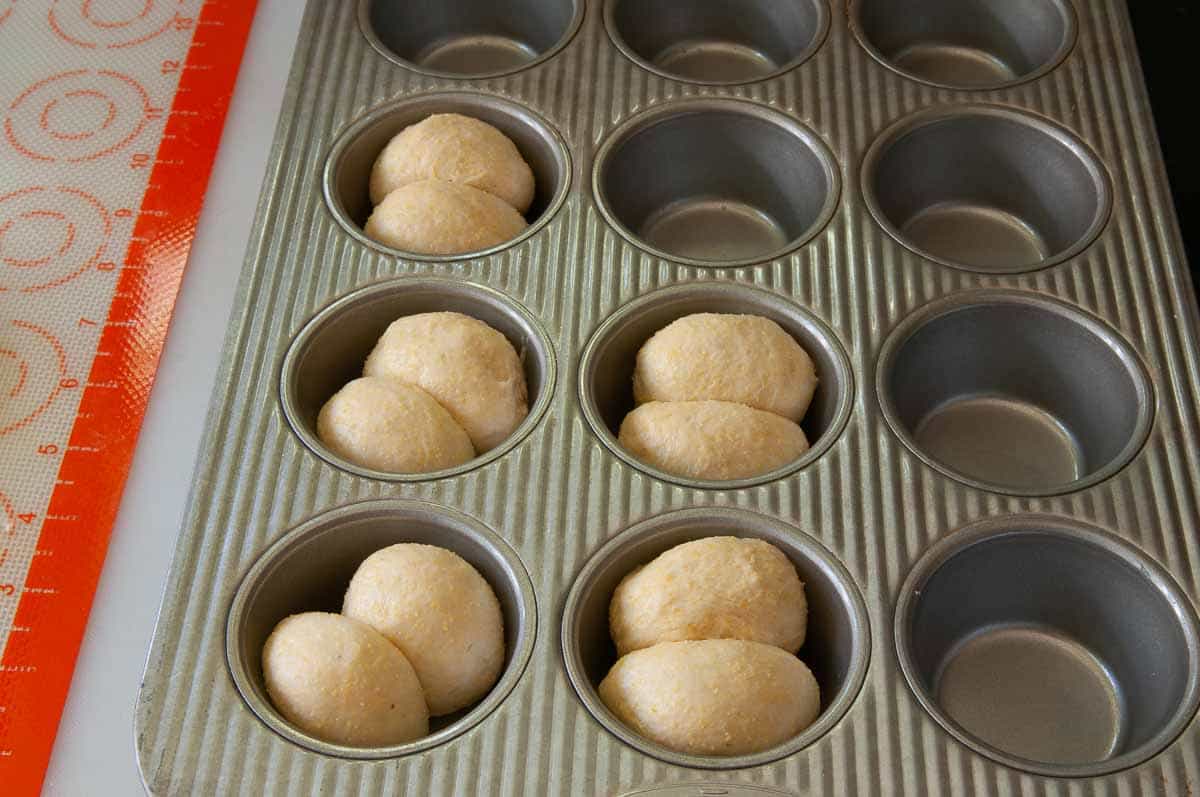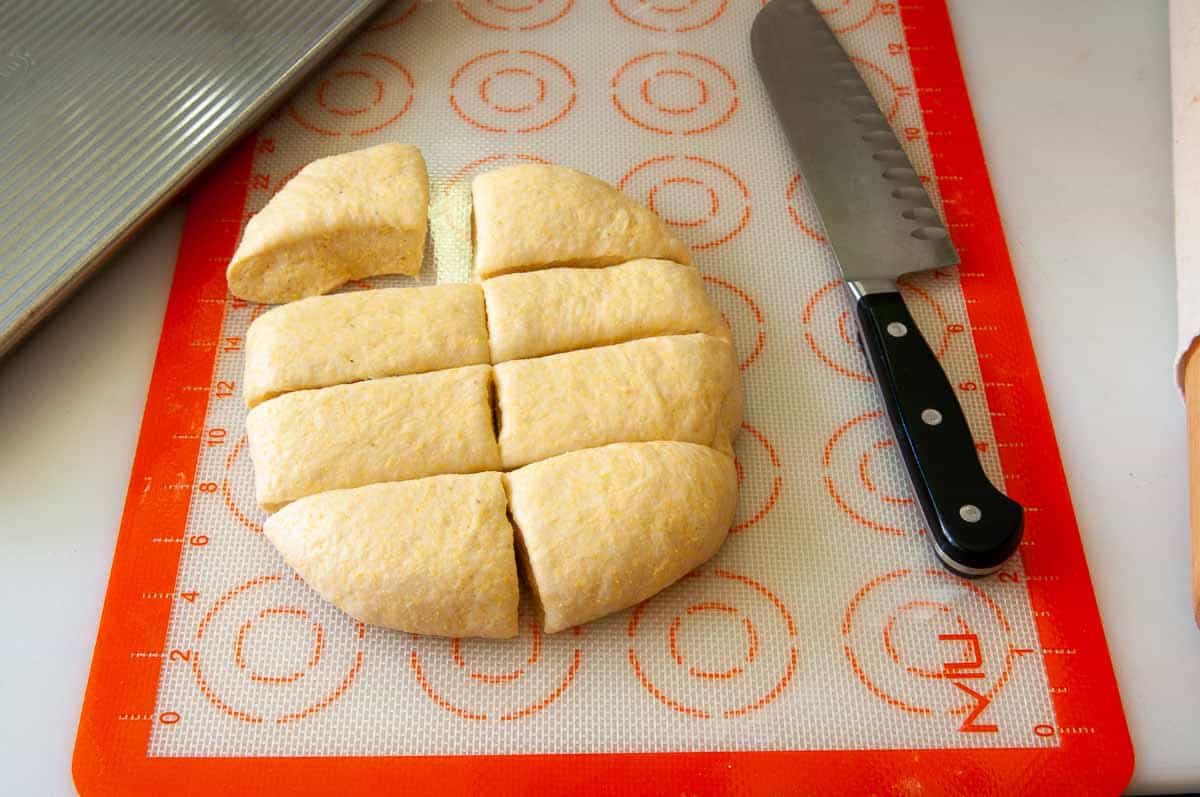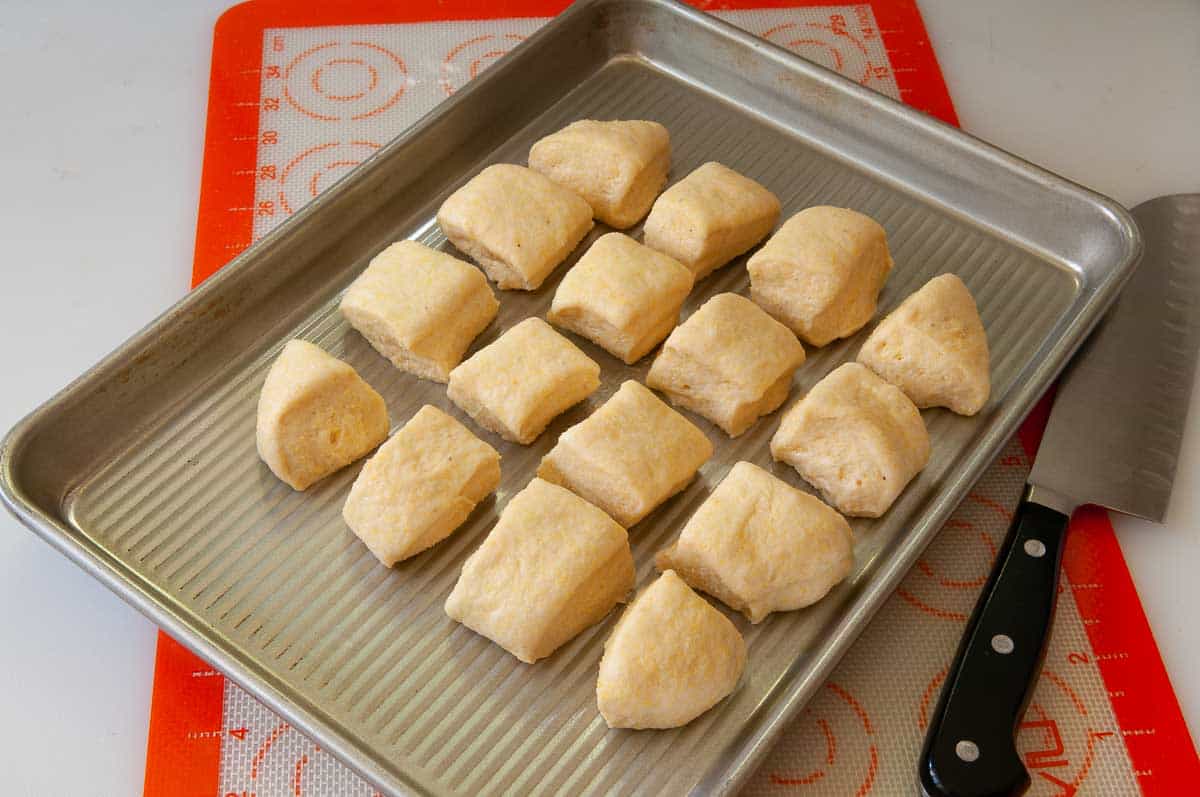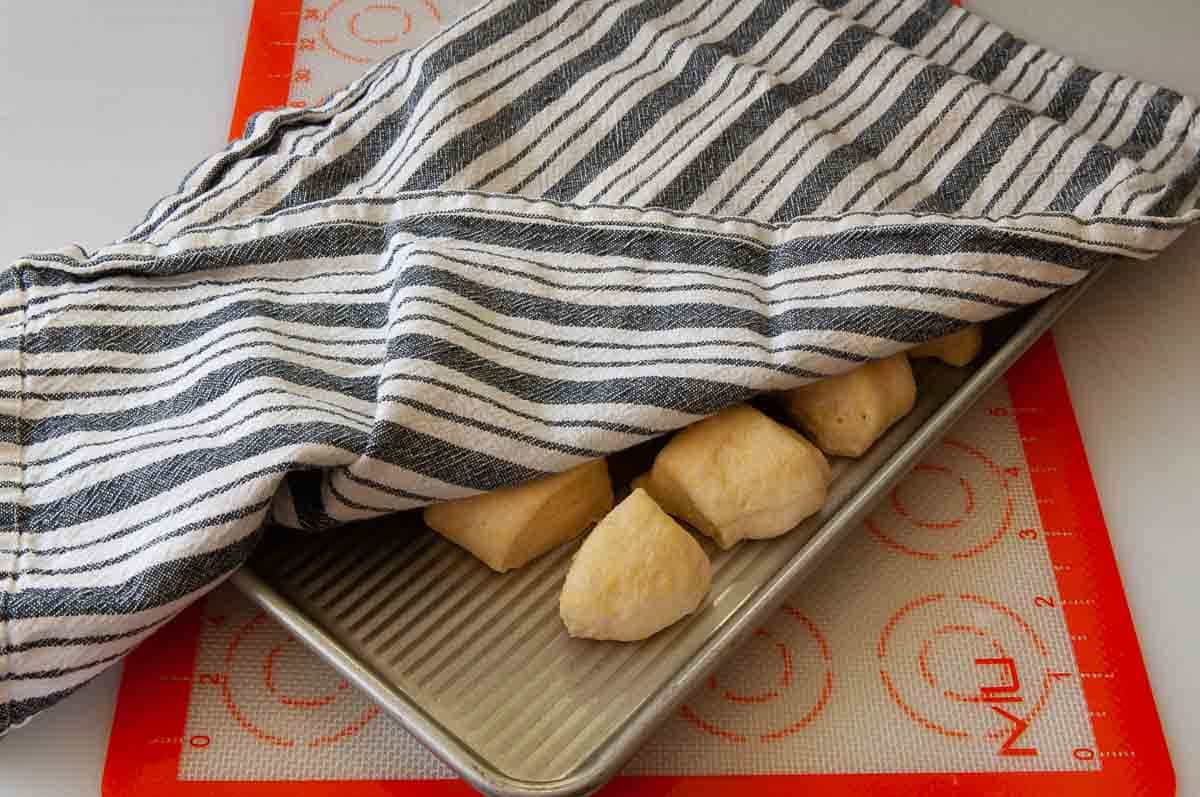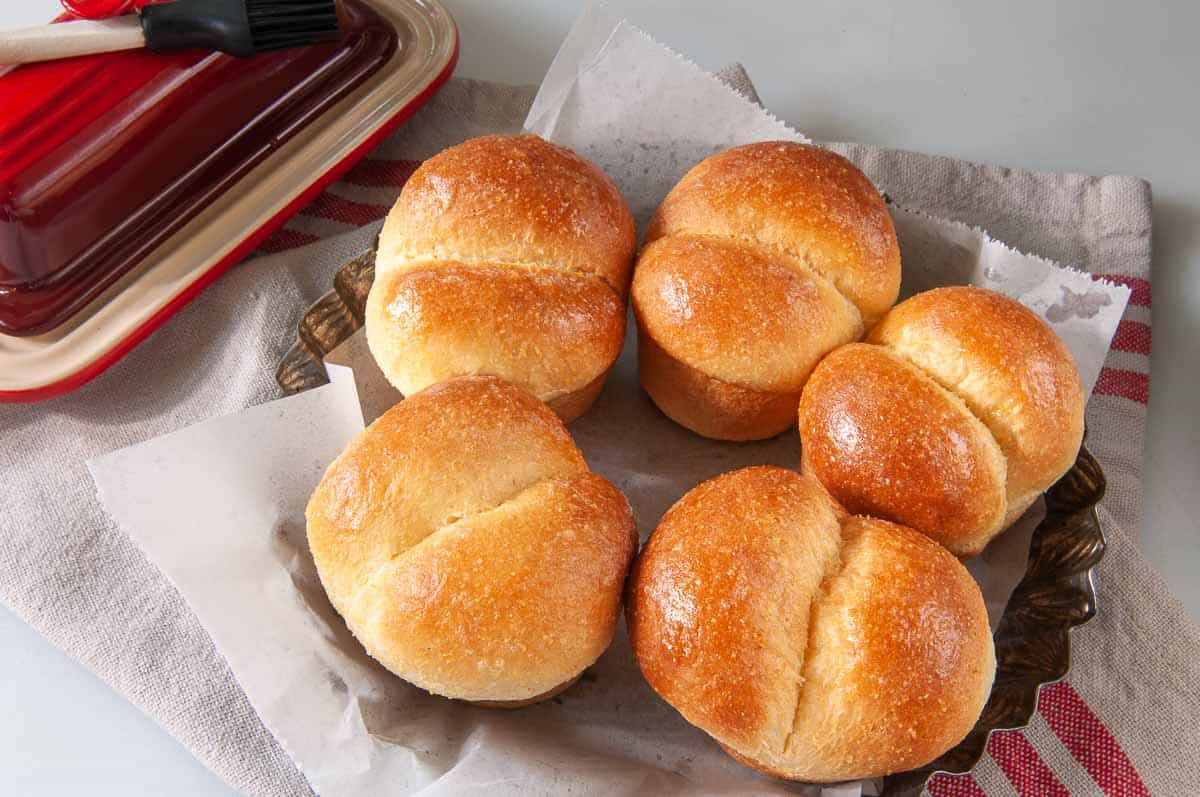 ---
FAQ for Yeast Cornmeal Rolls
Can I make these rolls ahead of time?
Yes. Make the dough and shape the rolls the night before. Place in the refrigerator overnight. When ready to bake the next day, remove the rolls and let them come to room temperature. Bake when they are puffy.
Can I make these without a bread machine?
Yes. See the recipe notes for details for making in a stand mixer or by hand.
What is the best way to keep these rolls fresh?
Homemade bread doesn't have the same preservatives as store-bought bread. Consequently, cornmeal rolls are best the day you bake them.
I prefer to keep them in a Ziploc bag or a bread box. Don't store bread in the refrigerator. Freezing is good, but double-wrap the rolls to prevent freezer burn.
What if my cornbread yeast dough seems too sticky?
Don't forget to check the dough after it kneads in the bread machine for 10-12 minutes. If the dough is sticking to the side and won't pull away, add additional flour one tablespoon at a time. If the dough is too dry and won't stick to the sides, add water one tablespoon at a time. Allow the dough to incorporate the additional flour or water before adding more.
Can I use self-rising cornmeal instead of regular cornmeal?
Yes. Reduce the salt a bit to compensate for added salt in the cornmeal.
Recipe adapted from One Hundred Years of Bread by Sidney Brockman Carlisle.
---
📌Kitchen Tip📌
These rolls are best eaten the day you make them. If you have leftovers, cut the cornbread into small cubes and make croutons. According to my friend Scooter of Scooter's Spaghetti fame, she sprays her cornbread cubes with olive oil and sprinkles them with salt. Toast in your oven at 300˚F until they turn golden, crispy, and crunchy. Delicious on salads or in this Squash and Green Chile Casserole.
---
If you like these rolls, try my Cornbread Twists. They will remind you of the canned cornbread twists Pillsbury used to sell in the refrigerator case. So good!!
---
PIN IT FOR LATER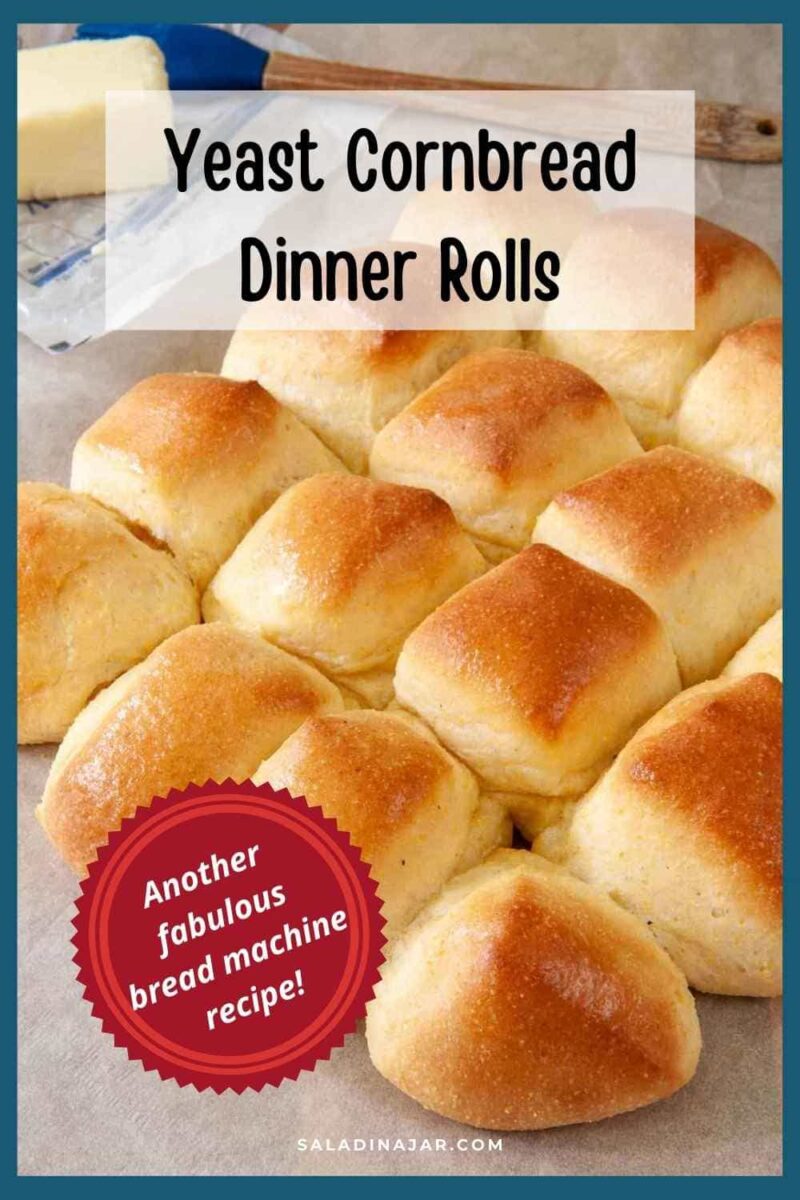 ---
If you have questions or suggestions, email me privately to Paula at saladinajar.com. Hope to see you again soon! Paula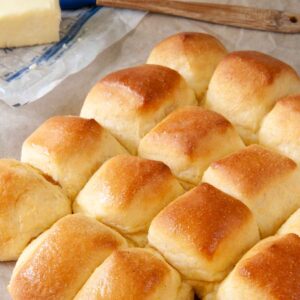 Yeast Cornbread Dinner Rolls: A Bread Machine Recipe
These are interesting yeasty cornbread rolls that are mixed and kneaded in a bread machine. The cornmeal adds an interesting crunch to the crust and the texture.
½

cup

boiling water

–

113 gr

⅔

cup

yellow or white cornmeal

–

104 gr

½

cup

milk

–

113 gr

1

egg

–

50 gr (large)

¼

cup

butter

–

57 gr (chopped)

1

teaspoon

salt

–

6 gr

2

tablespoons

granulated sugar

–

28 gr

2½

cups

bread flour

–

300 gr

1½

teaspoon

bread machine or instant yeast

–

5 gr
Prevent your screen from going dark
Add ⅔ C cornmeal and ½ C boiling water to the bread machine pan. Select the DOUGH cycle and let it run for a minute to combine. If you prefer, mix the cornmeal and water in a separate bowl, then pour the mixture into the bread machine pan.

Add ½ C lukewarm milk, 1 t salt, 1 egg, 2 T sugar, ¼ C butter, 2½ C bread flour, and 1½ t instant yeast to the pan.

Select the DOUGH cycle and press START.

After 1 minute, check the dough to be sure it is starting to clump. After 15 minutes, check again to make sure the dough is not too wet or too dry–just sticking to the side, then pulling away cleanly. If too wet, add 1 tablespoon of flour at a time. If too dry, add 1 tablespoon of liquid until the dough looks right.

When the dough cycle has completed and the dough has doubled in size, remove the dough to a floured surface. Lightly knead and press out any bubbles. Shape into a smooth ball.
Shaping rolls:
Divide dough into 24 equally-sized portions and roll each one into a ball. Place two balls inside each cup of a muffin pan. Or portion into 12 balls and put one ball in each muffin cup or divide between 2 8-inch cake pans. You can also roll out the dough like biscuits. (See pictures in the post.)

Cover with a tea towel and allow to rise in a warm place until almost doubled (30-45 minutes). Preheat your coventional oven to 375˚F (190˚C).

Bake rolls for 16-18 minutes or until golden brown and the internal temperature reaches 190˚F (88˚C). Move to a cooling rack to cool and avoid soggy bottoms.

Optional: Brush hot rolls with soft butter for a softer crust.
Directions for making bread with a stand mixer or by hand:
To make this recipe in a heavy-duty stand mixer, add ingredients to the bowl in the same order. Turn on low to mix until all ingredients are moistened. Using a dough hook, turn speed to 2 or 3 and continue beating/kneading until the dough becomes smooth and elastic, about 5-10 minutes. Cover and allow to rise in a warm place. Deflate dough gently and shape rolls as indicated in the recipe.
If making by hand, combine all ingredients into a shaggy ball in a large bowl. Turn dough out on a floured surface and knead with your hands until dough becomes smooth and elastic, which will likely take 10-20 minutes, depending on your experience. Place dough ball into a greased bowl. Cover and allow to rise until double. Deflate dough gently and shape rolls as indicated in the recipe
Please note: If you substitute regular yeast for instant or bread machine yeast, you can dissolve it before adding it to the dry ingredients. Stir it into about 1/4 cup of the lukewarm liquid in the recipe. Let sit for about 10 minutes. Add to other wet ingredients, and then add dry ingredients. Proceed as directed to knead and shape rolls.
Nutrition Facts
Yeast Cornbread Dinner Rolls: A Bread Machine Recipe
Amount per Serving
% Daily Value*
* Percent Daily Values are based on a 2000 calorie diet.